Function and style are perfectly represented in Corinthian's pivot door system, which delivers real visual punch at the main entrance of the home.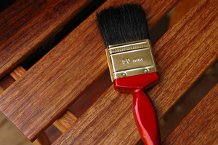 Homeowners these days are looking to maximise curb appeal, helping to increase property value and impress the neighbours! The entry door plays a great part in the first impression of your home.
Grand entrances now mean wider and taller doors, which consequently weigh significantly more than traditional entry doors. Corinthian created the Pivot Door System, which uses pivot bearings rather than the traditional hinge. The pivot system is designed to handle the weight of taller and wider doors, making entry effortless and creating a more impressive entrance way.
With the pivot bearings freeing the door of the need for conventional hinges, the pivot system handles the weight of an imposing timber door with total ease and functionality.
All doors in the Corinthian Pivot Door range are extra wide at 1200mm with heights available at 2040mm and an impressive 2340mm. This high-quality, pre-assembled pivot door and frame system is the easy-toinstall solution and is an appealing alternative to traditional hinges. The system includes everything required for installation: frame, door, bearings and accessories.
Combine a pivot entry door with hi lites or side lites to create your own grand entrance.
Corinthian Doors
Web www.corinthian.com.au