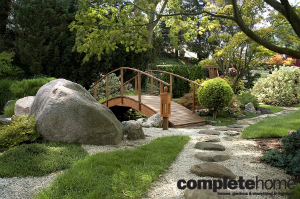 A sympathetic garden makeover gives new life to a rambling heritage property 
Story: Staff writer
When revamping gardens, consideration must be given to the style of the existing landscape, the architecture of the house and any well-established trees or garden beds that have significant value or appeal. When renovating a period garden or the surrounds of a heritage home, this becomes even more critical. All of these factors were carefully considered when designing this cottage-styled garden.
The residence, situated in leafy Killara on Sydney's North Shore, is a rambling heritage home, so what was required was a garden that would capture the spirit and ambience of the period. The result is a garden full of colourful plants, some of which are perfect for cutting while others were included for their seasonal display of beautifully scented blooms. A stroll around this garden reveals climbing roses, star jasmine, Magnolia 'Little Gem', Gardenia augusta 'Florida', Daphne odora, Murraya paniculata and the highly aromatic French lavender, to name but a few.
This garden also offers up a host of edible plants thanks to the inclusion of several productive vegetable patches along one side of the house. Depending on the time of year, the productive garden beds yield blueberries, raspberries, strawberries, passionfruit, tomatoes, asparagus, lettuce, rosemary and a host of other herbs.
And to add interest and a modern twist you will find Kalanchoe thyrsiflora 'Flapjacks', a popular succulent, planted in classical urns.
Although designed by Colin Dagger and Olaf Von Sperl of Above The Earth so that no matter what the time of year something is in bloom, the garden has a lot more to recommend it than impressive floral displays. Adding to the tranquil atmosphere, there are three water features. The main one is a cascading feature that sends water tumbling into a sandstone collecting pond under the double-staircase at the back of the house. This is the focal point of the relaxed yet stylish poolside entertaining area.
The stonework is another outstanding feature and is a fine example of how the new can be married with the old. The new sandstone retaining walls perfectly match the old, original sandstone of the house. Getting this right required a lot of planning and a keen eye.
To keep the continuity true and retain the flavour of the period, there is sandstone paving, old-style timber lap and cap fencing, and a herringbone-patterned pathway that leads through the vegetable beds to a small courtyard boasting a water feature as its centrepiece.
Even though this is a traditional garden, environmental issues were considered and addressed. A drip-irrigation system replenishes moisture to all garden beds and is connected to a slimline rainwater tank, thoughtfully chosen in a dark heritage colour that harmonises with exterior brickwork of the house.
Renovating older homes is a popular pastime in this country and to maximise your efforts the garden needs to be in keeping with the architecture of the home and pay homage in some way to the popular garden style of the time. There are several ways to learn about period gardens. There are plenty of books on the subject, but if you're serious about your endeavours you might like to join the Australian Garden History Society (www.gardenhistorysociety.org.au), which will give you access to various workshops, conferences and publications to help you develop a better understanding of distinct periods of garden design and horticultural practice.
If you're looking for inspiration, you should visit some lovingly restored homes and gardens. You can find properties through organisations such as the National Trust of Australia (www.nationaltrust.org.au) or the Historic Houses Trust (www.hht.net.au); look at your state or regional tourism authority website for details of homes and gardens open to the public in your area or buy a copy of the Australia's Open Garden Scheme's new guide for 2008/2009 (available through newsagencies or online: www.opengarden.org.au) to find period or heritage gardens open in your area.
There are practical and legal considerations, too. To protect our heritage, some inner-urban areas are designated conservation zones. This means you can't do anything to alter the external appearance of a house without getting a planning permit from your local council. In some areas this governs even changing the paint colours. If you have inherited or bought an older home, make sure to check with your local council before making any changes to either the house or the garden.