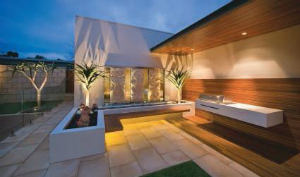 From sleek and modular to small and portable, the modern barbecue has many faces
By Carrol Baker
The great Aussie BBQ
Everybody loves a barbecue; it's part of our great Aussie lifestyle. A new-look barbecue is the perfect way to make a stylish and functional addition to your alfresco living space. Take a look at the latest range of contemporary barbecues and you'll discover they tick all the boxes — they're hard-wearing, practical and look fabulous.
On weekends and sultry summer evenings there's no better place to relax and catch up with friends than around the barbecue, and when the weather cools down you can still enjoy outdoor dining with the cosy warmth of an outdoor heater.
Maximise your investment

An outdoor barbecue is an investment, so choosing a barbecue that's not only functional but durable is important. There are many different styles and options, so how can you decide on the right barbecue? According to John McGran, national sales manager at Lifestyle Barbecues, start by thinking about orientation, features and budget.
"Decide what you can afford, what you'd like to cook on the barbecue and what features you'd like, then think about how many people you'll be catering for," he says.
Will you be cooking up simple fare, such as hamburgers or sausages, or whipping up tasty gourmet meals such as Asian-inspired dishes, succulent baked roasts, tantalising char-grilled seafood or delicious desserts?
You also need to look at what facilities you have available, says John. "If you're thinking about an outdoor kitchen, you have to take into consideration water, waste and electricity," he says.
When making your choice, look at just how much room you'll have — portable options are good for compact balconies whereas larger built-in models or even an outdoor kitchen are perfect for a roomy alfresco dining area.
A sophisticated affair

In the not-too-distant past, the basic barbie was simply stacked bricks with a hotplate. Small, portable kettle-style barbecues emerged in the 1950s, then in the 1970s and '80s larger trolley-style barbecues, some equipped with grills, became popular. Later, attractive modern timber stands added to the aesthetic appeal of the barbecue — the outdoor barbecue evolved to be functional and goodlooking.
Around a decade ago, technology delivered a new concept in larger barbecues — the sleek, stylish stainless-steel barbecue with a roasting hood. "The concept of a hood has converted the basic backyard barbie into the ultimate roasting machine," says Ross Yarranton from Barbitec. "It's one of the most highly innovative systems developed for barbecues."
With a roasting hood you don't need to be a culinary whiz to dazzle your friends with a vast array of mouth-watering baked dishes. With the hood and indirect heat, the delicate flavours are sealed in and enhanced, creating a delicious taste to all your favourite dishes.
Roasting hoods are usually constructed of heavy-duty stainless steel — some also come with a handy viewing window, so you can check on your cooking without having to lift the hood.
An array of features

Contemporary barbecues are equipped with many clever design features, including side burners so you can sauté, steam or stir fry with ease; slimline hoods that roll back so they take up less space; rotisserie rods; removable warming trays; and even pizza oven fittings.
A new innovative feature of many contemporary barbecues is the infrared grilling option. The infrared grill creates a searing heat, says Ross. "It can be fitted on the back or side of the barbecue and is a very effective method of cooking. It reaches a high temperature rapidly, directing the heat exactly where it's needed and, as an added bonus, you don't use as much gas as a conventional burner."
Barbecues also come equipped with two, four, six or more burners. When you're making decisions about your new barbecue, be flexible with your cooktop configuration, suggests John. "It's important to get the ratio of plate and grill right, such as two grills and one plate, then purchase another plate so you can interchange to give you more options when cooking," he says.
Basic barbecue types

Deciding what type of fuel — LPG gas cylinder, charcoal or natural gas bayonet — is another all-important decision you'll need to make. Natural gas is a clean, green option and you'll never run out halfway through when you're entertaining.
There are basically four different types of barbecues. Barbecues with conical-shaped hoods are known as kettle barbecues — these are usually fuelled with charcoal or gas and are compact in size. Some can easily fold away and be packed into the boot of your car if you're planning a beachside barbecue with friends.
Larger trolley-style barbecues on wheels can be moved around to suit your needs. Most have hoods as standard and a diverse range of optional extras, allowing you to experiment with a range of cooking styles.
Built-in barbecues can range from traditional backyard brick recesses to custom-designed, fully welded, stainless-steel or porcelain enamelled frame models that look fabulous and can be hooked up to a natural gas bayonet.
Crème de la crème

Sophisticated outdoor kitchen-style barbecues are the crème de la crème of barbecues. Many come with all your heart could desire — and more. If you do want the complete outdoor kitchen with all the latest mod cons, you're going to have to dig deep. They can cost upwards of $3000 but those in the know argue it's money well spent. It is, after all, an investment in your family's lifestyle.
Outdoor kitchen-style barbecues can include a variety of features — built-in refrigerators with clear glass doors, sinks and ample bench space for food preparation. There are also features designed for convenience, such as slide-away cupboards for gas bottles and a multitude of accessories including stainless-steel teppanyaki plates, rotisserie
kits and more.
With more Aussie families embracing alfresco-style living, the barbecue has become an integral component of outdoor living. To such a degree, in fact, that many people are now using their barbecues as their primary cooking facility, according to John. "Some are renovating and practically dispensing with their indoor kitchens altogether in favour of an outdoor kitchen," he says.

Compact and contemporary
At the other end of the spectrum there is a range of compact barbecues designed for small spaces. There are tabletop barbecues and grills that can be placed on a bench or table when needed and then packed away when not. Then there are solid-plate barbecues with folding legs. These can be used in the backyard or balcony or taken with you on picnics.
And you have a range of kettle-style barbecues at your disposal. While they're not very big, they're ideal for small gatherings in small spaces. Then there are the slimline, two-burner barbecues that come on wheels. These don't take up much space and can be tucked in a corner. Of course, if you need a barbecue that caters for more than two but not a lot of space, you can make sure the barbecue integrates into the design of your outdoor area with a designer barbecue cover, which are now available in an array of styles and colours. 
Please Consider
• Lifestyle Needs: What type of fuel suits your lifestyle (gas, charcoal, electric)? How often and for how many will you be cooking? 
• Space and Budget: Consider the space you have and your budget. There are small portable options and larger flat-top or hooded ones.
• Look for Quality: If you're serious about cooking and love to entertain outdoors, buy the best quality you can afford.
• Reach for Cover: And always spend a little more to purchase a cover — it will make a difference in extending the life of your barbecue.