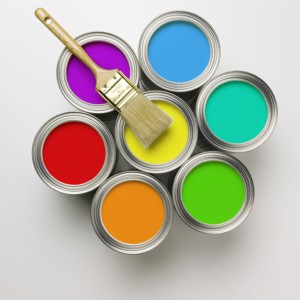 With the right paint treatment or textured coating any surface can be transformed 
Story: Catherine Stewart, FAILDM FAIH
Repeating colours or textures in your garden is a great way to create a feeling of unity and simplicity. Although that can be relatively easy to do with plants, finding hardscape and decorative elements that will perform the functions you want while co-ordinating perfectly with each other can be quite difficult.
Despite starting with quite different-looking pieces and structural elements such as walls and fencing, you can still achieve a unified design by using paint and textured coatings over the original surfaces. Even updating a tired theme or dated colour scheme is easy — terracotta can become stone-look, bricks and old concrete blocks can be changed with the application of a smooth render and old plastic pots become modern 'metallic' planters.
Textured acrylic coatings
Acrylic-based texture coatings create a smooth, modern-looking surface over bricks, blocks, lumpy render, Hebel block and fibro-cement sheets. Sold in three densities, depending on how even you want to make a previously uneven or dented surface, texture coatings can be smooth, have a sandy grittiness, added marble and pebble aggregates (a bit like a very fine pebblecrete) or have a Mediterranean 'bagged' look. Being a flexible acrylic, these texture coatings are also an excellent way to cover small cracks in walls.
Up to three coats might be needed to smooth out raked mortar joins or very uneven surfaces. Texture coatings can be bought pre-coloured or tinted to a wide rage of paint colours, including those requiring an ultra-deep base, or painted over after drying.
Read the instructions carefully, paying particular attention to surface preparation. Applying a texture coating can be a very messy business, so make sure you use plenty of drop sheets. Some are sprayed on and others applied with a special roller and trowelled off to create the desired finish. As acrylic texture coatings dry very fast, you must work quickly to keep a 'wet edge' as you apply, so it all blends properly. You may need two people — one to apply and the other to lay off or trowel. Calculate and recheck the area and the amount required as you cannot leave half way through a panel to duck to the shop to buy more. 
Render and texture effect
These are twice as thick as normal paints for more surface 'build up', creating a slightly textured look that can soften old painted surfaces, but they won't cover cracks and hollows. They can be tinted and there's one that creates a pretty, soft, terracotta-washed look. (For more information on rendering, turn to page 58.)
External paint options
External paints (other than for woodwork trim) are usually flat paints, which are better at hiding surface imperfections than their glossier cousins. Available in every colour, there are also paints for making even timber surfaces look like metal — typically stainless steel, old copper or rusted iron. Many have a rich lustre, soft, metallic sheen or a gentle shimmer. Special priming undercoats mean you can paint even plastics and fibreglass.
Think about creating an 'instant antique' rusted door, a 'bronze' statue that's really concrete underneath, turning your old plastic planters into chic stainless steel, making an outside chalkboard for the kids or even using glow-in-the-dark paint for your own night 'stars'.
Matters of maintenance
Avoid pale, smooth surfaces near your boundaries, such as on front fences, as they might attract graffiti. Also keep in mind that flat and textured paint picks up more dust and will need to be washed down regularly. For damp areas, choose paint with good mould resistance.
Photos courtesy of Porter's Paints (www.porterspaints.com.au) and Dulux (www.dulux.com.au). 
Tricks of the trade

1. Use the proper safety gear
There are a few basic safety rules when painting. You need to make sure you use the proper gear such as goggles, boots, masks, ladders and, for high jobs, scaffolding.
2. Prepare, and prepare again
No matter what the job, taking the time to prepare the surfaces properly is vital. When you are painting outside for timber homes you need to replace rotting timbers and fill holes with Polyfilla using a putty knife. It's best to overfill to compensate for shrinkage.
If boards are likely to move, use Polyfilla High Stress Gap Sealant. For brick or masonry, you need to scrape away loose paint and fill holes with an exterior masonry filler using a broad-bladed knife or scraper. Use a brush or a rag to roughen the filler before it is completely dry to match the texture of the surrounding surface. For larger holes you need a ready-mixed filler such as Polyfilla Ready To Use Large Cracks.
3. Use the right tools and save time
Using the right tools will make a paint job so much easier. If you have a lot of sanding to do, such as painting onto bare timber, a mechanical sander can save a lot of time. For paint work and wood, general-purpose sandpaper is fine but for bare metal, cloth-backed emery paper is the ticket. It will last longer and do the job faster.
4. Mask and save
Painting is faster and cleaner if you mask the area first. Use masking tape to protect areas you don't want to paint, such as window glass, and remember to remove the tape and paper before the paint is too dry. Removing tape too late can lift and break the dry paint leaving a cracked and jagged edge.
5. Keep it consistent
If you are using more than one can, tip the contents of each into a larger container then stir. This makes sure the colour is consistent and means you can pour the paint directly into your tray or refill the original tins for storage.
6. Careful with that roller!
Once you've done the brush work, dip the roller into the paint. Roll it gently to ensure it's even. Proper coverage on the roller is important.
7. Look after your gear
Once you have finished the job, remove as much paint as possible before cleaning the brushes and rollers with soap and warm water, rinse well and straighten the brush bristles with an old comb. Dry empty containers in a ventilated area and recycle with your local council's program.
Information courtesy of Dulux: www.dulux.com.au