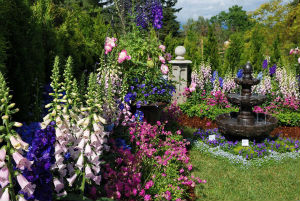 A beautiful tree gladdens the landscape and helps the environment

The benefits of ornamental trees are endless and at this time of year trees provide a welcome refuge from the scorching heat of summer. Beautiful trees provide shade, structure and colour to the garden, but they also improve aspects of our lives in ways we've possibly not thought of.
These benefits can be categorised according to the effect they have on our lives on four levels: social, environmental, health and economic. The economic benefits of trees include energy savings or increased housing values. Many studies have proven the possible effect trees have on our health.
Did you know?
? two trees are needed to supply the oxygen supply of each person
? a well-planned landscape can reduce your heating and cooling costs by up to 20 per cent
? tree canopy on private land is decreasing at a rate of five per cent per year
? 500 trees are required to absorb five tonnes of greenhouse gas emitted by a four-cylinder car driven 20,000km
Let's look at some beautiful trees, which can be planted to enhance your personal space. One tree which flowers profusely during the heat of summer is the Indian Summer® Crepe Myrtle, available in a range of colours. Indian Summer® Crepe Myrtle also provide fantastic autumn colour. Dark green leaves turn shades of reddish-orange or dark red, depending on the cultivar.
The beautiful Indian Summer® Crepe Myrtle 'Tuscarora' exhibits stunning dark coral-red flowers in summer and reddish-orange autumn foliage, while 'Natchez' produces white flowers and russet autumn foliage. They vary in height and width, and many are suitable for smaller gardens.
There are so many other wonderful trees it's difficult to make choices, particularly when we need to consider factors such as water usage and size. Many trees, both native and exotic, require irrigation while they establish, but are then quite drought-hardy. The key is to select the right tree for the right position. And Fleming's Nurseries new Top 10 Trees might just be the right place to find the right tree.
FLEMING'S NURSERIES
Website: www.flemings.com.au