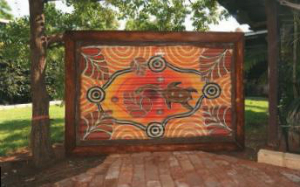 Outdoor art is very much in with these one-of-a-kind UV resistant ink screens  
Decorating an outdoor space with works of art says something about the personality of the homeowner as well as the artist. The artworks you select also contribute to the mood of your outdoor area and help you to create a sense of sophistication, an air of frivolity or an aura of spirituality or earthiness — the choice is yours.
In situations where space is at a premium, hanging art on perimeter or garden walls is an effective means of decorating without taking up valuable ground space. You can also use wall art as a strong garden focal point to be seen from inside or as a way of connecting indoors and out by carrying through a theme based on a colour or a particular material.
If you have an outdoor room, wall art has a key role to play there, too. Australians are investing more in their outdoor experiences than ever with outdoor kitchens and covered alfresco living and dining areas now becoming common features in backyards. Along with the trend towards creating comfortable outdoor rooms has come a surge of interest in decorating these spaces much as you would an indoor room — and that means decorating the walls in eye-catching and distinctive ways.
Leading the way in the creation of unique outdoor screens is Karnpi Designs, a new design studio established by Pauline Lourence to produce works of indigenous and contemporary works especially for outdoor and garden settings. The UV-resistant ink screens bring art outside in the most engaging way and add character and colour to any outdoor space.
Each artwork in the collection measures 2m × 1.4m and is designed to command attention without overpowering its surroundings. Karnpi Designs produces limited editions of 20 screens to guard against over-production and ensure every home has an original design. Although the studio strives to give every client something unique, it nonetheless offers a diverse range of screens to suit a wide variety of outdoor settings.
Personalising an outdoor room or landscaping design with a stunning art screen provides a focal point and conversation starter when entertaining. As with any piece of art, Karnpi Designs' outdoor screens are created to be admired; however, unlike other works, these screens are not too precious for the Australian way of life.
Art screens by Karnpi Designs are distributed around the country and are fast becoming the newest must-have accessory in outdoor design.