Today's kitchen is the hub of the household with cooking, dining and chill-out zones integrating to create relaxed spaces to connect with family and friends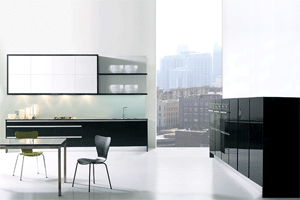 The kitchen is being reinvented as the second living room and creating a seamless flow between the two areas is more important than ever. We're starting to see people choose interesting furniture pieces for their kitchen rather than worrying about the practicality of the traditional work triangle.
Handle-free units and high-gloss cabinetry in open-plan kitchens integrate well with adjacent rooms and counter tops with different thicknesses inject a dynamic designer look into the kitchen. This is a modern take on the island bench with preparation and eating areas being more clearly defined.
Devices such as roller shutters remain popular for hiding appliances, however many consumers are now tending toward deep drawers for storing these items, keeping bench tops clear and kitchen clutter to a minimum.