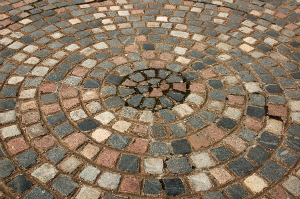 Choose the right paving and you'll have an outdoor room with year-round appeal
Story: Scott Brown MAILM, MAIH
Creating outdoor rooms continues to be the strongest trend in landscape design. As a direct result of this desire to extend the inside of the home outwards, we have seen the tones and textures that were once mainly the domain of indoor furnishings and floor treatments make their way into the hard landscaping materials used to construct outdoor entertaining, dining and living areas.
Entertainment areas, courtyards and even the paved areas around pools can now be themed, with the interior of the home resulting in a far more cohesive link between interior and exterior environments.
One of the more obvious examples of this trend is illustrated by the ongoing popularity of larger sized pavers. These larger format pavers are available in an increasing variety of earthy or more-muted tones. This combination of size and tone reflects modern interior decorating trends.
Luckily, the range of both natural and man-made large format is amazingly wide, ensuring that there will always be a suitable paving solution no matter what the style of your garden.
In recent times, there has been a resurgence in the popularity of natural stone for use both inside and out. Granite, sandstone, slate and bluestone are now being used extensively in the design of outdoor environments and especially as paving material.
The most popular man-made material currently being used for large format paving is concrete. Large concrete pavers are available in a wide range of colours with subtle textural treatments, which add to their tactile appeal. Being concrete, they tend to have much more muted colour tones than clay pavers and it is these subtle colour tones, combined with their large paver size, that have brought about their popularity.
Larger pavers in neutral or pale colours tend to make small spaces appear larger and, in these times of increased competition for outdoor space, making a small courtyard or entertaining area look and feel larger than it actually is can be a real boon.
Use pavers in the same or a complementary colour and size for outdoor areas that "spill out" from indoor spaces. This will help to make the transition appear seamless and give the impression of one large connected space.
The subtle textural surface finishes available in the concrete pavers lend them a certain "natural" look. These textural finishes can extend to exposed aggregate, popular for paths and driveways, where the fine sand matrix is washed away to expose the pebbles beneath.
In contrast to large muted pavers, smaller pavers — especially clay pavers, which can display stronger colours — tend to create a visually busy image, which dominates the senses and makes a small area more intense and feel as if it is smaller than it actually is.
When designing a landscape, working with more than one material is quite common and while some interesting effects can be achieved, in these circumstances it is often more difficult to achieve a sense of space. The danger is that in combining different materials, paved areas can become too cluttered or "busy".
One way to prevent this from happening is to use a large-format paver in a subdued tone as the main paving medium and combine it with a 'trim' of smaller more intensely coloured pavers. Or you can use a band of stone or pebbles. If done correctly, the expanse of large, muted pavers can contribute a sense of space while the thin border or inlay panel (of clay bricks, for example), in either a complementary or contrasting material, can be used to provide a visual link to the house — the paving bricks picking up on the colour and shape of the house bricks.
Of course, every landscape will require a unique solution to ensure a look that is compatible with the architectural style of the home and the décor of the indoor-outdoor spaces. As such, the best way to make an informed decision about the selection of paver material, size, colour, texture and laying pattern is to develop an understanding of the existing style, colours, textures and materials to be found in the interior and exterior of the home.
About the author: Scott Brown is a Melbourne-based garden designer and founder of Scott Brown Landscape Design.
Natural or not?
Whether natural or man-made, the choice of quality pavers is vast

Story: Geoff Heppner
Generally, paving products fall into two types: man-made and natural. An example of a man-made product that everyone will know is the paving brick (either in clay or concrete). In recent years, however, larger-format man-made pavers — from 300mm to 600mm square — have risen in popularity.
Cement-based pavers are a common choice these days and are either poured as a wet or dry mix. The latter, favoured for its lesser weight, is sometimes described as "sandstone paving" because of the use of sand and crushed stone in their construction. In reality they don't have any similarity to natural stone but they are extremely popular and come in a wide variety of colours and surface treatments.
Over the years, the paving industry has become much more responsive to the needs of consumers. Some suppliers provide a colour-matching service; others supply pavers with pre-inlaid decorative sections. And your choice of textures and surface treatments is wide, ranging from sandblasting (to give a soft look) to the inclusion of various surface materials such as pebbles.
The latest trend in concrete pavers is exposed aggregate, which is achieved by using various types of crushed stone in the paver mix and grinding the surface to expose the colour of the stone.
The paving examples mentioned above are generally made off-site and delivered ready to use. With wet poured concrete, which includes ready-mixed concrete poured on site, you can also achieve a number of effects by using various natural stone aggregates or coloured additives. By grinding these surfaces it is possible to reveal the stone used in the concrete mix, much like that of paving.
In some states, you can get what is referred to as "wet poured limestone" (actually a mixture of crushed limestone and mortar) that results in freeform paths and driveways with the same soft look as cut natural limestone.
Some manufacturers refer to their paving as being "reconstituted" stone. In fact, most pavers have stone in them in the form of crushed rock. If they didn't, the paver would not have sufficient strength. The term, then, refers to the fact that crushed quarried stone is used to make the paver. This stone can be exposed in the surface in any number of ways in conjunction with pigment additives, or it can simply be used to hold the paver together.
Natural paving products refer to natural quarried stone, which includes sandstone, slate, limestone and granite. Many of these products have strata lines, which enable them to be split into thin pieces. These pieces are used either freeform or sawn to produce high-quality paving. Slate is a good example of this and is currently very popular. Polished limestone and sawn black volcanic rock have become increasingly popular but there are many examples of quality stone available to the consumer.
About the author: Geoff Heppner is the Vice President of the Australian Landscape Industry Association.
Hard Choices
If you want the perfect swimming pool you need the perfect paving
As with all elements of garden and pool design, hard landscaping should be considered thoroughly at the outset. The first consideration is the use of the area. Paving a poolside area offers greater flexibility than the other options, which are basically decking or lawn. A paved space can be used for entertaining, dining, sunbathing and kids' games — and the maintenance will be minimal.
Paving products should be chosen for quality and appearance. You want materials that will stand the test of time and look their best for many years to come. You should also consider how the material will look as it weathers although, if you prefer, paving can be sealed to protect it from the weather, salt and leaf marks.
There is a variety of patterns used for paving, some of which are merely decorative while others have a more practical purpose — from the simple stretcher bond to herringbone, which is strong enough for a driveway.
Diamond patterns are popular with square paving tiles and further interest can be added by using a variety of different bonds. Whatever pattern is chosen, it's always advisable to lay the paving around a pool on a concrete slab because of the high degree of settling likely after pool excavations.
Most pools have some sort of coping (the paving tiles that edge the pool's circumference). The coping must complement the paving, although that is not to say it has to be the same material but the two need to look as if they belong together.
Hard landscaping can take cues from the architecture of the home, linking colours or materials into the garden and poolscape. For example, if you had a terracotta-floored family room that opened onto the garden, it would make sense to continue the terracotta outside. By flowing from the indoors to the outside, you will end up with a space that seems bigger and more cohesive.
It's also a good idea to look at the design of the exterior walls of the house so that the paving will complement the house without being too similar. Make them too similar and the look will be monotonous.
There's a plethora of paving materials to choose from including clay pavers, sandstock bricks, terracotta tiles, natural stone, reconstituted stone and concrete tiles. The materials you choose will depend on the style of poolscape you're after. A Mediterranean design may suit terracotta while for a more modern look, large-format pavers — whether of quarried stone, reconstituted stone or stone-look concrete — may be ideal.
Safety, strength and durability are also factors. Around a pool you want a paver that will be slip-resistant and unaffected by being splashed with chemically treated water. Salt-resistant pavers are advisable around salt-water pools, to help prevent salt rising to the surface of the materials in the form of efflorescence. For full protection the paver must be laid with a compatible mortar.
Whatever your final choice, you will benefit by considering all your paving needs during the initial pool planning stage.