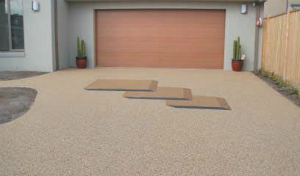 The perfect paving solution for the water-wise garden – when it rains, it drains
The paving you choose for your driveway, garden path, pool surrounds or outdoor entertaining area plays a critical role in how practical and aesthetically pleasing that element of your landscape will be. But in today's water-wise times, where we strive to conserve our precious resources, choosing a paving option that minimises water wastage is a prime consideration.
Pebble Pave™ is an eco-friendly paving solution offering a hard-wearing, attractive and, most importantly, permeable alternative to traditional block and concrete paving. With porous paving, there is no more water wasted due to run-off. Instead, the water permeates through the paving to the soil below. In short, when it rains, it drains.
If you are looking for a permeable paving solution that is UV stable, slip-resistant, environmentally friendly and decorative, Pebble Pave™ ticks all of the boxes. It can be installed anywhere traditional paving might be used, including driveways, footpaths, patios, pool surrounds and entertaining areas. It can also be used as an alternative to loose pebbles for tree pits.
By utilising Pebble Pave™ porous paving in your home garden, you won't just have an aesthetically pleasing outcome; you will be doing your bit for the environment. Allowing rainwater to soak through to the soil increases groundwater recharge, improves stormwater quality by filtering the water and reducing pollutant loads and reduces soil erosion and habitat scouring.
Available in a wide array of natural aggregates and crushed stone plus an extensive range of colours, Pebble Pave™ has many benefits. Not only is it permeable to air and water, it is highly durable and trafficable, resistant to yellowing, UV stable and fast curing, which means minimal disruption.
Pebble Pave™ is also an extremely suitable and affordable system for resurfacing concrete driveways, paths or pool surrounds. There is no need to remove old concrete; you just install the Pebble Pave™ on top of the existing surface. This represents a great saving in terms of time and money.
And don't forget the decorative possibilities. You don't just have to opt for one colour. You can create border patterns or decorative motifs to give an outdoor area your own unique stamp.