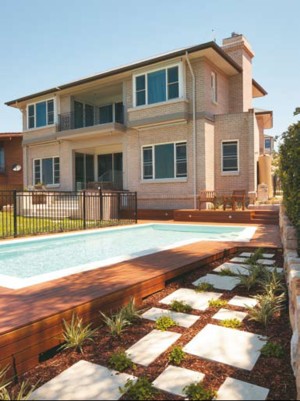 Specialists in exclusive and waterfront residential homes, boutique residential developments and units, Platinum Projects (Aust) built this architecturally designed home in Chiswick. Originally, the brick home embracing timber internally and cedar windows was demolished together with the pool to make way for a new design.
The client brief was simple: the new home was to capture and maximise the view, incorporating western red cedar windows in the design and glass. This deep waterfront residence with its prime position away from the road has been transformed into a private oasis. The interior and exterior of the home was inspired by the Georgian era. A long driveway leads to the large double garage that connects the home via a linkway that overlooks a courtyard. The home also includes a study, rumpus room, gymnasium and three bathrooms.
The open-plan area consisting of the living, dining and kitchen rooms takes in views of the water, with 130mm-wide timber floorboards adding strength and character to the space. This central area is the hub of the home. Fitted with an oversized hidden walk-in pantry and preparation area with both induction and gas cooktop elements, the kitchen follows a seamless approach with integrated appliances and a Zip hot-water tap built in. Upstairs, three of the four bedrooms have been fitted with carpet while 130mm-wide timber floorboards line the other. The master bedroom laps up the view with an ensuite and large walk-in robe attached. In the ensuite, vitrified tiles and mosaics decorate the walls. Dark polyurethane panels feature in the library, setting a warm tone for this part of the house. The retreat in the master bedroom acts as the perfect place to relax with a bar and sink, fireplace and piano. The coffered ceiling in this room is the same as the living area downstairs, connecting the two spaces. The stair void consists of automated capola awning windows which extend across all four elevations. Concealed LED lights help to enhance the staircase at night. Externally, the barbecue area, undercover patio, pool and manicured garden take in breathtaking views of the water.
From Austral Bricks, the face bricks façade with corbel details inspire a Georgian feel. Painted cedar windows from Hanlon Windows, along with the motorised external blinds, wrought-iron balustrade, solid-sandstone retaining walls and planter boxes created by stonemasons all by hand on site also follow in the Georgian style. As a member of the Master Builders Association, the Housing Industry Association and Australian Institute of Building, this home is just one example of the fine work Platinum Projects (Aust) can do. This Georgianinspired home has all the elements for a growing family.