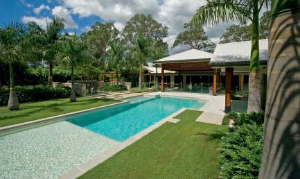 For that lush tropical look or to create a resort-style garden, you need palms
By Emily Cloke
The tropical landscape conjures pristine images of swaying palm trees, lush green foliage, bold colour and textures that calm and delight the senses. Synonymous with relaxation and balmy weather, the resort-style garden sees the humble palm tree play a central role as sentinel, screen and backdrop.
At first glance, one might assume that this large and diverse group is as simple as "many leaves originating from one branch". There are, in fact, myriad shapes, sizes, colours and distinguishing characteristics that set each member of this plant group in a class of its own.
As palms are prized for their arching branches, shady canopies and aesthetic appeal, it can seem a somewhat daunting task to identify and select the right palm for your chosen location. In this particular arena, size really does matter. With singular or multi-trunked varieties varying in height from one metre to 10 metres or more, selecting a plant with the right mature height and spread is essential, as is choosing a palm that suits the growing conditions in your garden.
Clumping palms
Clumping palms make a wonderful addition to the garden with their dense habits and thick growth. As feature plants in pots or the garden, they provide the ideal foliage backdrop to smaller shrubs and groundcovers. Their density can bring cohesion to the landscape when placed in key areas where they will fill out and provide shape and screening. Some great examples are:
• Dypsis lutescens (Golden Cane Palm): Growing to an average of six metres, these palms are a well-known addition in many gardens. A highly effective screening plant with a light golden green hue, it's a bright contrast to other planting choices. These palms remain virtually unrivalled in the tropical landscape setting for their sun-tolerant combination of density and height.
• Rhapis excelsa (Lady Palm): A stunning multi-stemmed specimen with deep green, fan-shaped growth. Capable of reaching around eight metres high yet slow to mature, this palm makes a fabulous indoor palm that can remain quite dwarfed in the same pot for extended lengths of time. Resilient to cooler temperatures, these palms will thrive outdoors in a semi-shaded or protected area.
• Chamaedorea Seifrizii (Bamboo Palm): Capable of performing beautifully indoors and out, this plant has a lovely clumping habit and slender cane-like stems that combine to achieve optimum results. Reaching an average height of around four metres tall, these palms will thrive in well-lit areas and semi-shade in pots or garden beds.
Small Palms
Small palms fill a certain niche in various locations such as courtyard gardens, indoor and office plant displays and as features to the foreground of architectural buildings and beyond. Paired with larger palms they give spatial relevance to garden bed size and offer diversity by offsetting neighbouring plant varieties with their palette of gentle green growth. Consider planting varieties such as:
•  Chamaedorea atrovirens (Cascade Palm): Reaching around three metres tall, this is the ideal combination plant to pair with tropical foliage plants such as Crotons and Cordylines. They offer a rich green leaf that will counterbalance brighter colours beautifully and are the ultimate smaller clumping palm for tight spaces.
• Chamaedorea elegams (Parlour Palm): Similar in form to the Cascade Palm yet denser and smaller in growth habit. The lovely tight arrangement of the leaves gives the impression of a miniature palm that has a decidedly delicate appeal.
• Phoenix roebelenii (Pygmy Date Palm): These are the ideal choice for those gardens that yearn for a single-trunk palm specimen that won't grow too large. They will reach an average of three metres tall and look fabulous planted in groups and rows with a shrubbery underlay.
• Licuala grandis (Ruffled Fan Palm): Grows only to around 2.5 metres in height and loves a protected position. Traditionally an under-storey plant, this palm is of particular interest to collectors. This palm variety has a beautiful dense leaf form and singular trunk with a compact habit that appeals on multiple levels.
Larger Palms
Larger palms are welcome additions to the • skyline where they sit comfortably amongst rooftops and sought-after view lines. A stately addition to the landscape, they provide scale to developments and a focal point for surrounding garden elements. Some of the best performers to consider are:
• Wodyetia bifurcata (Foxtail Palm): An Australian native palm that offers a welcome contrast with its foxtail-shaped leaves. Growing to around seven metres tall, these palms are enjoying ever-increasing popularity in the modern landscape setting.
• Phoenix canariensis (Canary Island Date Palm): A considerably large palm with a stately appearance and majestic growth habit. Well-utilised in parks and large gardens or as an eye-catching feature to residential frontage plantings. Slow to mature and capable of withstanding cooler temperatures, these spectacular palms will grow to become the talking point of the garden.
• Bismarckia nobilis (Bismarck Palm): The dusky grey foliage of this magnificent palm will catch the eye from considerable distance. With a wide berth and mature height of up to around 12 metres in cultivation, a sizeable area is recommended at planting.
• Howea forsteriana (Kentia Palm): Somewhat smaller and more suitable for the suburban garden, the Kentia Palm will grow to around five metres high on a singular trunk. Considered to be one of the most attractive palms in the world, its graceful pendulous form is capable of thriving indoors and out, along coastal areas and surviving light frosts. 
Palms offer movement and life to a garden design, with their deep colour, resilient habit and elegant yet striking forms. There are so many varieties to choose from when planning the ultimate landscape; from this small window into their vast range of suitability and appealing attributes, it's easy to see how palms have become one of the most popular landscape plants in cultivation today. 
This article was prepared by Emily Cloke, a landscape designer and horticultural consultant with Boyd's Bay Landscape & Environment, on behalf of the Australian Institute of Landscape Designers & Managers (AILDM). If you would like to find an AILDM member in your area, visit the website: www.aildm.com.au.