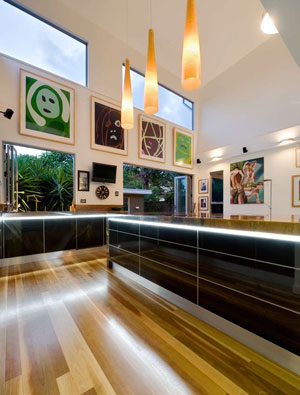 A Supercars stalwart shows us his custom-made kitchen
By Marissa Saroca Photography by Glenn Weiss
Most people don't like to bring their work home with them. That's not the case for Roland Dane — but then again, he doesn't exactly have your average run-of-the-mill job.
Roland is the managing director of Triple Eight Race Engineering that runs TeamVodafone in the V8 Supercar Championship. The team had great success in the last few years, winning the Bathurst 1000 four times, V8 Supercar Teams Championship twice, the Drivers Championship twice, second in the Drivers Championship three times, and winning 32 rounds of the series in the last five years.
When this home was bought a few years ago, it had just been completely renovated and extended. The kitchen was your stock-standard stone benchtop with two-pack doors — a pleasant room but one without personality.
And despite its near-new appearance, Roland found the u-shaped design wasn't an efficient use of space and was ready and willing to put his spin on things. In the end, he wanted a design so personalised that it wouldn't matter if anyone else disliked the result, since he himself would have approved and he would be thrilled with every detail.
Roland's new kitchen had to cater for his strong passion for cooking and entertaining, and impress distinguished guests and sponsors too. With more than one designer vying for the job, he chose to put his faith in Lee Hardcastle from Enigma Interiors, who had taken his dream kitchen checklist and come up with a layout and design that outshone all the others.
The existing walls and windows were to stay, as was the stunning spotted gum timber flooring. Roland wanted a large integrated fridge, minimal use of handles for a sleek, streamlined finish, metal and timber features, plenty of gadgets, drawers, and feature lighting. The latest stunning VZUG appliances from Switzerland line the walls, integrating amazingly with the chosen carbon fibre.
According to designer Lee, coordinating the full integration of all appliances — a selection which includes the wall of VZUG appliances, as well as a Miele Mastercool refrigerator, dishwasher and under-counter fridge — was a nightmare, since it took hours and sometimes days tediously calculating each dimension so everything would come together faultlessly in the end. Flush-mount VZUG induction cooking items were also chosen for the island bench.
And as for Roland bringing his work home? Well, with cars on the brain 24/7, it made sense that at the top of his wish list was incorporating carbon fibre into the design — a material used to make V8 Supercars. It obviously works wonders on the track, and Roland had already experimented with carbon-fibre sails and rigging on his boat — so why not the kitchen too?
Construction wise, the waterproof properties and extreme durability of carbon fibre (the doors are virtually bulletproof!) are excellent for kitchens, but the high cost would deter most clients. Luckily, with no expense to be spared in this kitchen, carbon fibre was an available option but not without its difficulties.
A challenging material to work with, carbon fibre is generally used in small pieces or on curves, yet in large flat panels even the smallest imperfection can be seen. Each surface needed a dust-free environment, and was then laid up on individual pieces of glass one at a time.
Each piece was done both sides and allowed to fully cure in between, taking over one month each to manufacture. Some of the larger panels took a few goes to get them right.
After the carbon fibre was added, the panels were trimmed to size and a groove cut in for aluminium edges. They were cut, mitred, fitted and glued by hand to ensure accuracy.
Though a painstaking process — and one left to the experts — the end result is stunning, with a gloss finish even deeper and more dynamic than two-pack. To add to Roland's list of desires, Kevlar, another material used in the car-racing world, was used on the inside of doors and further adds to the sophistication and luxuriousness. This doubled the complexity of manufacturing each door and panel.
Roland had also specifically chosen a stunning granite benchtop to feature, and the Blue Louise with mitred facia could surely pass as artwork, with its amazing patterns which contrast beautifully with the uniformity of the carbon fibre. He also chose the Abey Schock black evolution sink and black chrome Zip tap unit, making the corner nook a very attractive one. Electronic push-to-open Blum drawers and under-counter LED lighting add further luxury to this kitchen, as does the complete wall of Kevlar with spotted gum shelves.
Not content with just the kitchen bearing his mark, Roland has ensured the bathrooms are also about to encounter an overhaul and will feature a complete wall of solid onyx and a warm colour palette of chocolate, orange, tan and yellow hues. Dark Italian floor tiles, floor-to-ceiling wall tiles, spotted gum timber features, a black in-wall toilet, slatted timber shower tray, black shower panel with jets and taps, black heated towel rails and a handy timber shower seat round out the list of features that Roland has to look forward to.
Understandably stoked with the final result, Roland and his guests are continually blown away by this striking statement kitchen. With a final budget of $200,000, it's certainly not for the faint-hearted. But even with a price tag this high, what's the one item in the kitchen that's most frequently used? None other than the trusty bar fridge! So, although he is constantly surrounded by his work, it's giving him plenty of good times too. LKB
Project particulars
ENIGMA INTERIORS
2/31 Veronica Street, Capalaba Qld 4157
Phone (07) 3390 3244
Email enquire@enigmainteriors.com.au
Website www.enigmainteriors.com.au