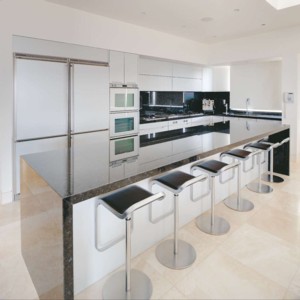 One of Australia's largest importers and manufacturers of marble, granite and exotic stone, The Stone Boutique supplied and fabricated only the best materials for this Melbourne-based project.
For a new home designed by Edgar Pirotta Architects and constructed by the ownerbuilder, natural stone was selected for the bathrooms, ensuites, kitchen and laundry area. The sleek, modern kitchen boasts style and sophistication, while embracing all aspects of function and storage required for an active family of six. The kitchen uses Volga Blue granite for both the splashback and benchtop. The island bench was designed to easily accommodate six stools, one for each member of the family. Clean lines and ergonomic design define this space, with the materials adding to the modern sophistication. The main bathroom exudes space and elegance. Calacatta Moonlight marble was used for the walls and Burmah Isla marble for the floor. All vanity tops use Calacatta Moonlight marble. Marble benchtops and splashback provide the backdrop for the twin basins and oversized oval bath. For the feature staircase, 20mm-thick stair treads and risers were installed with a continuous stringer shadow line. The extent of the Burmah Isla marble was used for the flooring and on the staircase, in the bathroom and for the laundry bench and splashback.
By incorporating the Burmah Isla marble into all three areas, The Stone Boutique ensured continuity and style to the interior design.