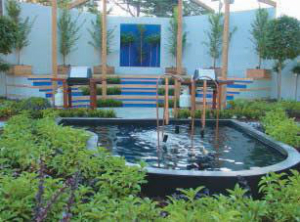 A properly lined pond will be a garden asset and an endless source of enjoyment
When you stroll through a garden and see a beautifully landscaped pond, the tranquil surface of the water and the picture-perfect arrangement of edging rocks or plants give no hint of the behind-the-scenes expertise that went into its creation.
Finding the right location for your pond is the first step but the ultimate key to success is the use of the correct installation of the liner. A pond that is not properly lined will be an expensive folly rather than a source of endless joy for your family, so getting the lining right from the outset is imperative.
Beutyliner Australia specialises in the supply of custom-made pond, dam and tank liners. What makes these liners the preferred choice is that they are custom-made to suit your individual style of pond and the construction method you intend to use. For example, if you are planning an architectural design where the pond has a flat base and straight vertical walls, Beutyliner will manufacture a snug-fit insert rather than a flat sheet liner, which is folded.
The company manufactures three major forms of liner — flat sheet, composite and profile form — which is useful to keep in mind when planning your design.
Beutyliner has been manufacturing pond liners for more than 30 years and its product has been used worldwide in a wide variety of applications, many of them specialist projects. The company also provides liners for high-profile projects right around Australia. One of the most recent was the award-winning Habitat display garden designed by Victorian landscape designer Phillip Johnson for the 2009 Melbourne International Flower & Garden Show. Habitat, which invited show visitors to explore a world of cascading waterfalls and billabongs, featured the extensive use of Beutyliner liners.
While each liner is made to order, this does not mean that it is a lengthy process. Most liners take less than seven days to manufacture. Nor is using the product complicated as, in most cases, on-site joining is not required until liners exceed a size of 500sqm. So as you can see, a custom-made liner from Beutyliner Australia is definitely something to ponder.