Binet Homes symbolises a standard of building excellence, design inspiration and service that every Binet Home owner has come to know and trust.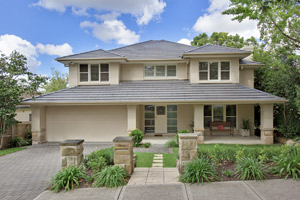 For over 40 years, the company's design and construction capabilities have been the most influential factor behind Binet Homes success.
Founders, brothers Peter and John Binet, established a dedication to using only the finest materials and best construction and engineering techniques, and that spirit carries on today.
Owners can feel the quality of their homes. They can feel that a master built Binet Home not only makes a personal statement about the owner, but represents true value for money, and an exceptional investment opportunity.
Binet Homes can build quality homes on your land or theirs, on their own prestigious estates, or on individual sites. They provide a complete service from design, to construction, to furnished interiors and landscaped gardens, to pools and tennis courts.
Binet Homes develop estate streetscapes, provide amenities, and take care of every detail. We also provide the finance to allow you to purchase a house and land package in one of their Controlled Developments, giving you ample time to sell your existing property.
From single level construction to multi-level designs; high quality duplex homes with minimum levels of maintenance to single free-standing homes of substantial proportions; Binet Homes provide the total concept – a complete service from one company.
It is often asked what makes a Binet Home different. The immediate and unequivocal answer in Peter Binet's own words: "Vision and people. We design and build not simply as a business, but as a proud team of Master builders and craftsmen who have retained a commitment to tradition, quality and the giving of something back to clients that is eye catching from far and near, a pleasure that all can share in….Homes of infinite luxury, individuality and imagination."
We welcome you to visit our display home at Castle Hill please see the following details:
Display Home
13 Kingscott Place Castle Hill
Inspect
Monday & Friday 1:00 – 4:00pm
Wednesday 2:00 – 5:00pm
Saturday & Sunday 1:30 – 4:30pm