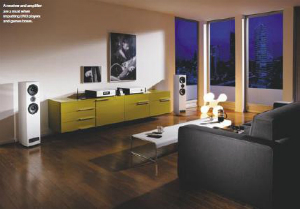 You might be forgiven for thinking home cinema has discovered its feminine side after years of being seen as something of a male domain. But just as the barbecue went from a simple grill to a stainless-steel pod, home theatre is rapidly embracing great design, luxurious detail and fl awless technology. And a growing female audience could just be the reason why. Certainly both Philips and Sony — two of the world's biggest consumer electronic companies — seem to think so and have recently said they're now designing their appliances with women much more in mind.
According to Philips, "women now call the shots" when it comes to home technology buys, while the head of Sony's television marketing, Noritaka Sawamura, was reported as saying "the company would be increasingly designing its gadgets to suit female tastes". "For the fi rst time the female voice in choosing products is getting bigger than ever," Sawamura told the media during a visit to Australia from Japan earlier this year. Whatever the cause, it's clear from the latest electronic shows — September's Internationale Funkausttellung (IFA) in Europe to Japan's CREATEC a month later — televisions, speakers and all the other home cinema must-haves are getting better looking, smarter and easier to use. The hottest ticket in town Not that home cinema, home theatre or home entertainment, whatever you'd like to call it, has ever suff ered from an inferiority complex here. With around two-and-a-half televisions per home — nearly one for every Australian — we were the fi rst western country to see sales of plasma and Liquid Crystal Display (LCD) televisions overtake the older analogue-type sets — the ones most of us grew up with.
According to Euromonitor International, Australians spent close to a billion dollars just on televisions in 2007, and a similar amount on home cinema screens, projectors, speakers, hi-fi and other equipment. That love aff air doesn't look like ending any time soon either. New fi gures by UMR Research in 2008 showed that nearly 50 per cent of Australian adults intend to upgrade to a wide-screen, fl atpanel television, while more than a third said they plan to improve their home theatre systems in the next two years. And we're not alone. The world market for home theatre is expected to increase by a third over the next fi ve years, and with no sign yet of a dent in sales due to gyrating stock and property markets. "There's always been a lot of interest in home cinema here, but it seems to be getting even stronger," said Mike Staindl, managing director of Melbourne-based Smart Systems Pty Ltd. "The start of digital television in Australia, better access to high-defi nition content and equipment such as the Blu-Ray DVD, and just better appliances at lower cost are all helping to push it along. I also think there's a real return to home-based entertainment and a home cinema looks like being a crucial part of that." More than the sum of its parts But for all its popularity, choosing the right sort of home entertainment can be challenging, especially as the technology, gadgets and options keep changing so fast. At its simplest, home cinema has a few basic requirements: inputs such as a DVD player or games box, processing through a receiver and amplifi er, and outputs built around television or screen and projector, and speakers.
Having said that, the choices and add-ons can be dizzying — and with price tags to match. CEDIA, for instance, the Custom Electronic Design and Installation Association that takes an interest in all things technological, divvies up home theatre by 'under $50,000', 'between $50,000 and $100,000', and 'above $100,000'. "Price is such a broad category right now given the huge range of appliances and systems on the market," said David Small from Audio Works, a division of Amber Technology. "You can put in a home cinema that costs around $25,000 and get a great result, but something more than $100,000 will deliver better than a commercial cinema and that's an experience that's really hard to beat in your own home." While pinpointing an average cost for home cinema may be diffi cult, most people who work in the sector — either as distributors, installers or designers — do tend to agree about the type of features they look for in great home theatre. Adam Merlino, general manager of Audio Connection, which specialises in high-level home integration, summed it up when he suggested there were roughly fi ve qualities his company always tries to deliver. "I look for simplicity, a balance of great visuals and sound, easy control, a theatre that blends with the home, and a cinema experience that suits the lifestyle of the people who will use it," Adam said. "It really is something that needs to be thought through carefully." Bits versus box The superiority of home cinema sourced from individual components rather than the all-in-one, 'home theatre in a box' — or HTIB as it's more popularly known — is also another area where you'll fi nd fairly broad agreement. While there's no denying there are some great pre-packaged systems out there — take a look at Sony, Samsung or even LG for example — sourced components, the experts say, deliver greater fl exibility and performance.
"Home theatre in a box has the advantage of being very aff ordable and convenient, but it just won't give you the cinema experience that a welldesigned system will provide and that's really the objective," said Len Wallis of Len Wallis Audio. He should know. Not only has he been supplying and installing high-quality audio-visual services for nearly 30 years, but his company just won six CEDIA awards including best media room, best home theatre under $50,000, best home theatre between $50,000 and $100,000, and a highly commended for home cinema above $100,000. "The whole home entertainment market is moving so fast that a home cinema design drawn from varied sources and companies can be upgraded and adapted far more easily than one off the rack. I've also learnt that clients have diff erent likes and dislikes, as well as diff erent interests when it comes to technology, and a tailored system just allows you to create a more unique experience," Wallis added. That fl exibility means designers can take advantage of new formats more easily, as well as enhance basic home cinema systems by adding features such as the placement and number of speakers, upscaling of images, and better integration with whole house technology. Dedicated or distributed?
The other fundamental question most people have to ask themselves is whether they will create a separate space for their home cinema or merge it into an existing area such as the living room — also known as a media room. While trends have fl owed both ways, and there are avid fans of both options, most experts believe a dedicated theatre does help to optimise movie enjoyment. Bill McLean, of McLeans Smart Homes, agrees, saying he believes dedicated home cinemas are much more popular right now and that "even project homes seem to be including them these days. A specifi cally designed room is not only more cost-eff ective in the long term than trying to reconfi gure a lounge room, but the isolation lets you control the environment to really deliver fi lm and sound tracks as they are meant to be enjoyed," said McLean. Obviously a specifi c room lends itself to the use of a projector and screen for great visuals, but it also means a lot of other issues are more easily resolved. For a start, sound quality can be more fi nely tuned so that every person in the room is treated equally using acoustic treatments for walls and ceilings that help contain internal and external sound, lighting can be strictly controlled, and the infrastructure to hide components can be built in right from the word go. All the skinny on home cinema But whichever room you choose, the push these days is for great design as televisions rapidly lose weight, speakers get slicker, and the gadgets disappear into walls and ceilings. "Seamless technology is big right now," Phillipe Luder from Audio Dynamics, distributor of the very sleek Geneva sound system, pointed out. "Home cinema components are getting much better looking and unobtrusive." Sultan of slim is Sony. The Bravia ZX1 is currently the world's thinnest LCD at just 9.9 millimetres, but that will soon look like a contestant on The Biggest Loser when the three-millimetre-thick XEL- 1 — using Organic Light-Emitting Diode (OLED) technology — starts selling here in 2009. It's a trend being followed by all the major television makers, such as Toshiba and Sharp.
Panasonic, for example, already has a 9cm-thick plasma model out, but displayed one that is less than 1cm wide — as design and décor become the star players. Once again Sony, which already has 24 per cent of the local market, has jumped in fast here as well, releasing the Bravia EX1 television that transforms into a digital picture frame when switched off . "As the technology gets better, designers are being able to deliver complex simplicity without compromising performance and I think women have been a big infl uence on this," Luder added. I can see clearly now But even if we're taking a lot more interest in the packaging, there's still been no neglect of both picture or sound. In fact, the stakes keep on rising even as the price tags fall. In recent years, the bigger the better has certainly been the mantra in new television and screen sales, with plasmas and LCDs hitting 100 inches and above — such as Panasonic's latest 150-inch plasma — and screens off ering even larger, seamless options. Picture technology also keeps improving. While digital television, which is mandated to begin here by 2013, has been around for a while, highdefi nition (HD) formats are already the next big thing. In fact, with Australian television stations beginning to broadcast in HD, it's no wonder sales of HD televisions and projectors at either 720 or 1080p — the accepted measure of vertical resolution — are now the biggest-selling item, up by 34 per cent in 2007. And new on the block, at least at the very high end for the moment, is a move toward anamorphic — or widescreen — projection. While widescreen formats have been available in televisions and projectors for some time, they haven't been able to deliver the true cinema feel — until now that is.
According to Paul Kutcher, sales manager for Visual Fidelity, whose company imports and wholesales projector screens and screen systems such as the bespoke Stewart Filmscreen products, there's a new demand for anamorphic-quality home cinema. "Anamorphic projection delivers a more immersive image because you're using all the pixels and all the light source with a screen that is slightly curved," Paul said. "You feel completely wrapped in the whole fi lm experience and that level of quality at home is increasingly possible as the technology gets better." The speaker of the house A great picture is all well and good of course, but as most experts will tell you, great home cinema also needs fantastic sound. "Audio is more than 50 per cent of the home cinema experience and that can be neglected, especially as screens have got bigger and bigger," said James Stewart, general manager of Fi Audio. "I think that there's a new awareness about that now from clients, and certainly our company will look at all the issues, from room size to décor, to get a great sound." Australian fi gures seem to confi rm a growing interest in audio. According to Euromonitor International, speaker sales jumped 13 per cent here in 2007, a trend largely driven, the company says, on the search for better sound for movies. Certainly the products are now available to do just that, with typical home cinemas installing fi ve speakers — three in front for music, dialogue and sound, two rear ones for background sound eff ects and a sub-woofer to enhance deep sound. But often that's only the start, with many highend cinemas installing the so-called 7.2 option — seven speakers and two sub-woofers — or even higher. "Multi-channel, surround-sound home cinema is defi nitely the way to experience a movie as the director intended it to be. Not only do you get crisp dialogue, but every other note is felt by every one in the room," he added. I remote One of the biggest changes taking place in home entertainment is the growing switch to a more networked and smarter home. More and more people are introducing layers of automation so that gadgets can be linked, programmed and managed more eff ectively. Intelligent lighting and streamed audio have so far been the big winners, but there's also a boom in streamed video through the home as people start to put speakers and screens in most rooms. "It's hard for me to think of home theatre without the support of integrated and smarter home systems overall," Mike Staindl said. "In fact, many of our clients start with the house intelligence fi rst and then see the value of home cinema as part of the mix.
Control and ease of access to a home's entertainment, lighting, security and energy options is really only possible once you've laid the right foundation, but it means home cinema can take full advantage of those options." experience this much simpler form of control is through the growing use of touchscreens and master remotes. Not only are they beautiful to use, but accessing all of a home's entertainment system plus home networked features such as smart lighting or automatic blinds is literally at the touch of a fi nger. "One-touch screen remote is brilliant," said Barry Dowd, who has recently installed a media room in his home through Bill Mclean's company Mcleans Smart Home. "It felt like we had around eight remotes before, but now we can move between the options without anyone getting confused." Home cinema gets green lighted While still more a whisper than a roar, the move toward energy-effi cient home cinema is quickly gathering pace and will become much more important in the next few years. For a start, the Australian government plans to regulate the energy usage of appliances such as televisions using a '10-star' rating system. At the same time it also says it will fast track a one-watt energy standby rule — the power that is wasted while appliances such as televisions and hi-fi s wait to be used. It's overdue, of course.
Not only are most other home appliances already regulated for energy effi ciency, but TV power is predicted to double here by 2014 as diff ering standards, technologies and appliance sizes impact environmental performance. It's certainly a trend a lot of companies are beginning to pick up on and there were no end of green claims for home cinemarelated appliances such as televisions at all the electronic shows in 2008. "Energy management rules will have a very big impact on the home cinema market, but there is still a long way to go," said Michael Williams, general manager of WC Wedderspoon, the audiovisual distribution company. "We import T&A speakers and amplifi ers from Germany and their environmental credentials are some of the best in the world, and I think people are starting to ask those questions when they buy products now." We all need good direction For anyone who has gone shopping for home cinema, the list of acronyms — DLP, DVDA, 240 HZ, LCD, CRT, to name only a few — can be the fi rst stumbling block. Add that to the broad range of products to choose from and it's obvious this is not an area that lends itself to DIY very easily. In fact, given the time and thought that needs to go into just choosing televisions and speakers, let alone how to design and furnish a home cinema, it's no wonder planning and installing them is a lengthy process that is best done with the advice of experts. "We do a lot of talking with our clients before we even start to document the install so that we're all aware of what will work best for their budget, lifestyle and interests," said Len Wallis. "We encourage our customers to come in and listen and look at diff erent products to make sure they know what they're buying. And the follow up is just as important so that the people using the system understand it and can make the most of it." What will we be watching tomorrow? Home cinema has navigated all sorts of technological changes over the past 20 years; in fact, the path is strewn with some famous missteps, but none may be as fundamental as the approach of Internet-based content. As we've grown comfortable with accessing music online through sites such as Itunes or Sonos, the same is now expected to happen fairly rapidly with fi lms and videos. While today the Internet can only be accessed on a television set through external hardware such as a games console or computer, such as the Apple TV, that is about to change. Already the major consumer electronic companies are unveiling televisions and other home cinema components that can directly access online content as the industry explores new ways to connect our living rooms and home cinemas to the vast world of Internet content. At the IFA in Berlin recently, most of the major companies presented their new televisions with some option to connect to the Internet using direct or indirect connections, such as plug-in adapters from Sony to Hewlett-Packard's Media Smart LCD TV that wirelessly streams highdefi nition video.
"This is the future of home cinema most defi nitely," Alan Lawson from Ingenious said. "We're not only seeing all the manufacturers bringing out products that help to plug into online content such as movies, but there's major growth in Internet-based content such as Internet Protocol TV that is already big in Europe. Australia will need to improve its broadband speeds of course, but that will happen and then home cinema will be an even bigger experience."