Grand proportions and premium materials create a modern and luxurious waterfront home.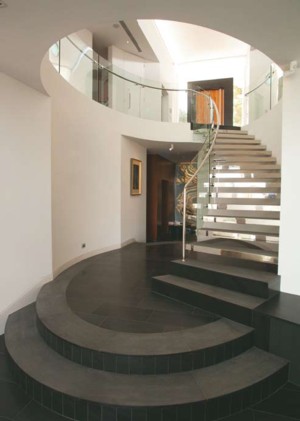 This waterfront estate offers a tranquil retreat amid the hub of Sydney's urban environment. With a pre-existing design concept, the client contacted Pimas Gale to finetune their ideas and realise their vision.
The result is a stunning residential dwelling, fit for its prestigious Hunters Hill location. Positioned on a steep and difficult site, this block was no obstacle to Pimas Gale, as the company was able to resolve engineering difficulties without compromising the clients' high expectations. A mixed palette of materials was used for the exterior of the home, resulting in a unique and natural finish. A wide, low-pitched zinc roof with broad eaves floats over the glass, metal and sandstone walls. Soft bamboo foliage acts as a privacy screen from the street view and adorns the home with a modern edge.
Linking the house to the street is an elevated bridge, which leads to the imposing hardwood entry door. A stunning focal point, the entry opens into a vast three-storey void under a clerestory roof. Huge planar walls frame the spectacular view in grand proportions. The wide cantilevered curved stone and steel staircase — a central feature of the home — links the entry to the main level below. The curve of the staircase echoes the grace of the ocean, with suspended sculptures of Albatrosses above. Subtle references to the home's idyllic waterfront location, such as portal-style windows and curved balustrades, create an understated but elegant theme, with the stateliness of an ocean liner. Refined materials and a minimal finish form a calm and relaxed interior. The kitchen and living space flow in an open design and are worked with subtle vibrant touches in their finishing. This home functions both as a peaceful and intimate family home, and also an impressive backdrop for the largest of social and charity functions.
The waterfront views encourage a sense of entertainment while providing a haven for relaxed and laid-back living. Pimas Gale has offered a range of technical and innovative solutions in this project, ensuring sustainability and convenience for the client. With the environment in mind, a stormwater collection and reuse system and sophisticated low-energy lighting were used. Extension plant room areas were built for pool and spa operation, as well as a huge fish tank; a stunning feature seen from two levels. An underground cinema and expansive garage ensure the best of luxury living, along with a fitness studio right on the water's edge. 
This project encapsulates the highest standards in architecture and design, with a result that is exceptional in both form and function.