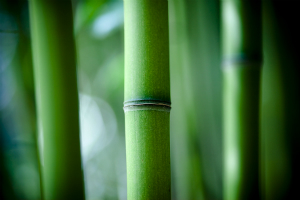 It's easy to create a relaxed resort-style outdoor living space with bamboo
Throughout Asia, bamboo has long been regarded as both practical and beautiful. Used extensively as a building material, it is prized for its strength, aesthetic appeal and eco-friendly qualities.
Bamboo forests are fast-growing and self-renewing. They require no fertilisers or chemical sprays to keep them healthy and productive and when dried correctly, bamboo forms a very hard wood which is both light and exceptionally tough. For these reasons, bamboo is now highly sought-after worldwide as a natural alternative to plantation timbers.
Bamboo Habitat offers a varied range of bamboo screens to suit all tastes and budgets. Choose from robust chunky styles through to finer, thinner options. Some have added features such as strong coconut fibre string or a cut-out design perfect for seeing through into a secret garden.
Whatever the design, all are made from natural materials and have an earthy, timeless quality. What is more, the screens are easy to install.
To ensure longevity and good looks, all bamboo screens are strung together with 3mm galvanised internal wire. Use these screens to transform old fences, construct private outdoor living spaces, conceal unsightly objects and create shaded sanctuaries in your garden. By cladding an existing metal or timber fence, or constructing a purpose-built fence, you can create a 'soft' tropical-style backdrop for plants, statues and water features.
To give your garden that all-important finishing touch, Bamboo Habitat has an extensive range of garden décor. To create your own tropical island-style paradise, choose from modern and traditional Indonesian stone sculptures, water features, planter pots, ponds, shade structures, exotic daybeds and more.
Also ask about Bamboo Habitat's stylish new stacked merbau timber wall cladding. This unique product is ideal for when you want to add a touch of glamour and it's easy to install.
BAMBOO HABITAT
Shop 5, 1260 Princes Highway
Engadine NSW 2233
Tel: (02) 9548 5097
Fax: (02) 9548 5092
Email: baliandbeyond@bigpond.com
Website: www.bamboohabitat.com.au