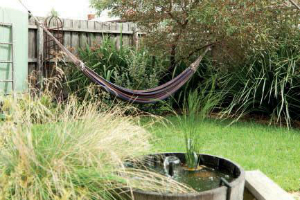 Thanks to the personal touch, this Melbourne garden really is one of a kind

By Karen Sutherland

Photography Patrick Redmond
The owners of this property, a couple of avid, adventurous travellers, needed a garden for their house in Melbourne's Footscray that was low maintenance and could survive their frequent trips away cycle touring, sea-kayaking and rock climbing. They wanted a garden that evoked the Australian bush and seaside, with places for found objects from their travels such as driftwood, coral and shells. They needed a shady place to hang a hammock and dream up new adventures and a sunny lawn to lie on with their cats.
Other important requirements were a modest vegie plot to grow some basil and tomatoes for summer salads and an area of paving to hold barbecues with friends. The old garden was an overgrown cottage garden and the owners wanted a modern look, with extensive use of native plants. The use of Australian native plants was a natural choice, as one owner had grown up bushwalking since the age of four with her father, an author of bushwalking guides. He and his wife, active members of their local native plant group, grew some of the plants for planting in the garden.
Most of the old garden was removed in a day-long working bee. All that remains from the original is a small pocket next to the garden shed, with a compact Meyer lemon tree and patch of kitchen herbs that were too useful to remove.
In the L-shaped back garden, two overlapping circles have been used playfully for the lawn and paving. A circle of Sir Walter Buffalo grass gives a lush yet drought-tolerant sitting area. The paving circle is made of recycled red bricks, chosen for their low impact on the environment and the owners' hip pockets. Costs were further kept down by family and friends getting together for a day of paving and laying lawn. The bricks have sandy grouting to create a semi-permeable surface, reducing storm-water run-off.
Small-growing eucalypts line the back fence, E. Forrestiana (Fuchsia Gum) and E.torquata (Coral Gum). Both have attractive flowers over a long period and grow happily to four to five metres, perfect for an inner-city garden. Underneath these, plantings of Dianella tasmanica and Lomandra longifolia are easy to care for. Dichondra 'Silver Falls' spreads around native grasses in sunnier areas and groupings of succulents in rusty containers decorate this outdoor garden room. Two soft green plastic water tanks nestled into corners of the garden provide water for the vegie patch, lawn and garden and for topping up the fish pond.
Fitting into a corner of the house is a nautical-inspired timber deck that was designed and built by one of the owners. An engineer and keen yachtsman, he meticulously formed the quarter-elliptical shape by wetting and heating the timber. After the addition of new timber double doors, the deck is now a natural entry point to the garden and an extension of the living area of the house.
Down the side of the house a sandy stretch of Dromana Toppings flows around the deck, with groundcovers softly forming path edges. Chrysocephalum apiculatum grows at the feet of Eucalyptus pulverulenta, which will be coppiced after it establishes in a year or so, an uncommon practice that deserves to be more popular.
The owners have added to the garden with various self-constructed sculptures. A cone of Castlemaine slate sits sturdily among the native grasses and Pink Mulla Mulla (Ptilotus), while a deconstructed bicycle makes a large wall-hanging and remembrance of bikes past.
As an extension of the house and of the owners' lives, the garden performs perfectly. It is constantly evolving and forms a big part of their lives in every season.
Karen Sutherland of Edible Eden Design is a Melbourne-based garden designer who runs workshops on sustainable and productive gardening.