The owner of this inner-city apartment wanted a kitchen that would exude warmth and avoid the feel of the stereotypical contemporary kitchen. Ron MacFarlane, head designer at Individual Design, talks us through the project.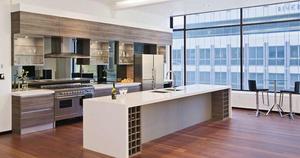 What was the house like before the renovations?
The space I had to work with was a gutted third floor apartment wall with pillars protruding into the room. The flooring had already been laid.
What was the client's brief for the project?
To create a truly unique kitchen in the heart of Melbourne's CBD. The client was showing photos of what he didn't want. He thought all the kitchens looked the same and he wanted something different, off-edge.

Please describe the body of work completed.
Walls and suspended bulkhead were plastered and painted by the owner's trades. Flooring was also contracted by the owner.

What were some of the special design considerations of the project?
We decided on an exceptional design with a strong woodgrain finish. Lustrous Elm from the Laminex Colour Palette was used on the stunning cabinetry framing the kitchen, including a six-metre-long cabinet sitting high above eye level.
With floor-to-ceiling windows sitting in the backdrop, the aim of the project was to create a kitchen with a strong organic feel, to present a perfect dichotomy to the busy city scene outside.
What was your inspiration for the design?
The waves and undulating shapes of Flinders Street Station. The tones and shades of colour in the naturally oiled flooring.
Were there any unusual challenges you had to overcome (and how did you)?
The theme of the kitchen was continuity, so it needed a woodgrain that could match perfectly. Laminex was the only supplier that could provide a product that matched the lines of the woodgrain perfectly.

Why is this renovation special?
It has been awarded the Victorian HIA Kitchen Project of the Year title at the 2009/2010 Housing Industry Association (HIA) Awards as well as Best Townhouse/Apartment Project and Renovated Kitchen Over $30,000.
Paul has been one of my most enjoyable clients to have interacted with over a designand- construct project. I remain in contact with him. This is one of the most enjoyable and rewarding benefits of taking the journey through; a thorough and in-depth design process with clients.
Photography by Tim Turner 
Project particulars:
Designed by:
Individual Design
12 Sherbourne Road, Briar Hill, Vic 3088
03 9434 4305
ron@individualdesign.com.au
www.individualdesign.com.au
Built by:
Individual Design & Construction
03 9434 4305
Cost Approx $40,000 (excluding appliances)
Benchtop: Essastone
Splashback: 6mm silver mirrored
Cabinetry: Laminex in Lustrous El