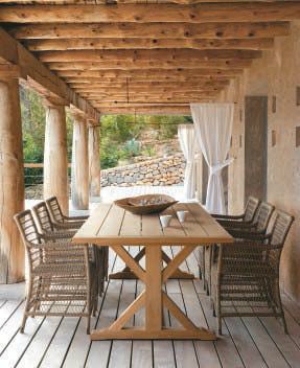 You don't have to spend a fortune on furniture, but quality is important
By Catherine Stewart
Year-round furnishing
Every outdoor space needs furnishing so you can enjoy it all year round. As you've spent both time and money building, budget for the very best furniture you can afford. Although cheap and cheerful is a good stopgap if you're not able to buy high-end right away, plan to invest in some good-quality pieces when you can. The difference in materials, finish and longevity will be better value over time, so don't down-market your deck or patio with the some old plastic or timber settings.
Position and purpose
Make designated areas for furniture so it doesn't get in the way of access routes across your outdoor area. You don't want to trip over chair legs or a coffee table every time you need to get to the bins or shed and make sure there's a clear area of about two metres outside your door. You'll also need to think about access to outdoor power and gas points, and maybe light switches and awning controls.
Decide what main function you want for your outdoor space, but don't neglect the other less frequent uses. For example, your family of five might plan to regularly eat outdoors during summer, but you'd also like to sit there while you're reading the paper or supervising kids playing, or chatting with friends over an afternoon cuppa. If you rush out and just buy a dining setting for six, you're not going to have the most comfortable options for those other times.
Dining out in comfort

Most people plan to use their outdoor space for dining. A rectangular dining setting for six needs about 2.5m × 2m when the chairs are pushed in, plus another metre all round for walkways behind occupied chairs. Square and round tables take up more area for the number of diners, although there's also more room for serving platters.
Unless you're sure you'll be regularly feeding a lot more guests, having two tables to join together is usually more practical than one giant table, so look for designs with matching settings of different sizes, or perhaps a smaller sized table with adjustable height legs so it can also be used as a coffee table.
Just lounging about

If you like a more relaxed style of dining and your patio or deck has a weatherproof covering, you may prefer to go with an outdoor lounge setting with coffee and side tables. As you can put the lounge chairs back up against a wall and walk in front of them, they don't actually take up more room than a dining setting and will beckon you outside for a wider range of activities, such as a coffee with friends or reading with the kids.
A two-seat lounge, two comfortable chairs and a coffee table make a good start, for which you'll need about 4m × 2.2m. Many outdoor lounge settings have matching extras, such as footstools, ottomans and side tables, and you can also buy lounges with a flip-up seat for storage. In limited space, look for settings that stack together for space-saving storage when you need the area for a different function.
Going from day to night

Sun-lounges, with their long horizontal lines, give a deck or patio a resort-style look but are not a very practical use of space if you've limited room. While they look good in pairs, their low height means they don't work well with taller furniture nearby.
An outdoor daybed is the ultimate in opulent luxury, though perhaps only comfortable with family and intimate friends. Some, like the Tipi Daybed from Instyle Outdoor Living, look like protective woven pods with their own overhead shade, while others are more of an old-fashioned three-sided bed with mattress and bolster cushions.
Getting the right look

If your deck or patio connects to your inside living areas, choose furniture with a similar look so they all work well together. Outdoor furniture is now classy enough that you can use it indoors as well and, if it's subject to hours of sunshine, it will last better too, especially with outdoor fabrics on seats and cushions.
Keep in mind scale and proportion. The further away you'll be viewing your furniture and the bigger the outdoor space, the more solid it needs to look, as lightweight, thin legs and tabletops seem very spindly from a distance.
The creature comforts

You'd think that chair geometry and table height would be pretty standard, but in fact they vary a great deal, so always ask a few different height and proportion friends (and kids) to try settings first. You also need to think about surface comfort. Restored cast-iron might look wonderfully old-world, but it's not nice to sit on without cushions. Plastic feels very hot and sticky on bare legs and metal is unpleasantly cold in winter.
Dark-coloured furniture can heat up in the sun, especially steel and timber, although dark-coloured aluminium doesn't seem to retain heat. Watch out for reflected glare off polished metals and glass tabletops. Mesh and wicker are the most comfortable seats without cushions. Make sure chair seats have a slightly angled back and a nicely rounded front edge so they don't cut into your legs.
If the furniture is out in the rain, you'll want it to drain and dry quickly. Timber stays wetter longer and water often sits around metal edging on glass tables. Mesh sling chair seats dry in a jiffy. Cushions need to have quick-draining foam.
Staying put, moving about

Stability is essential for outdoor dining and coffee tables so you don't all lose your wine glasses every time someone bumps the table. Heavier timbers such as hardwood and teak, cast-iron, heavy-gauge steel and glass-topped tables shouldn't shake about and stone or mosaic tops are definitely solid. However, you may need to move your setting about to keep it in the shade at different times of day, so make sure the table is an easy two-person lift and that glass tops won't slide about.
Conversely, the most important thing for dining chairs, apart from comfort, is that they need to be light and easily movable, as dragging heavy outdoor chairs will damage decking and even paving. Aluminium and wicker are lightweight yet strong, as is tubular PVC resin.
Longevity and maintenance

Timber must have regular re-oiling or painting for long life. While powder-coated aluminium or steel is described as maintenance free, scratches and chips in the paint need to be painted over. While there's a lot of nice-looking, inexpensive metal furniture about, it will start to show corrosion marks and surface stains after only a year or two. Better-quality furniture has thicker coatings and careful attention to vulnerable cut ends and welds.
Outdoor wicker is made from synthetic resin rattan over an aluminium frame. Some stores offer a three-year warranty on the frame, but only a one-year warranty on the wicker, and then only if it's under cover. Better-quality wicker will also have a three-year warranty. Regularly wash down wicker with detergent in water, rinse well and air-dry before you replace any cushions. Dust off cushions and wash covers every few months, as it's dirt that promotes mildew growth, rather than just damp fabric.
Material Matters
• Synthetic Wicker: This is light, comfortable and stylish material that stays cool even in hot sun.
• Timber: Typically made from treated pine, quality hardwoods, plantation teak or recycled timber.
• Tubular PVC Resin: A durable choice, especially in areas with salt-laden winds where metal would corrode.
• Metal: Typically made from powder-coated aluminium, stainless steel (polished or painted) and cast iron.
• Natural Stone: A stay-put choice, but the colours, patina and solidity make it worth considering.