Beautiful one day, perfect the next; so goes the advertising slogan for Queensland. If you like your weather hot, your gardens lush and a lifestyle based on outdoor home entertaining, then Queensland more than lives up to the promise.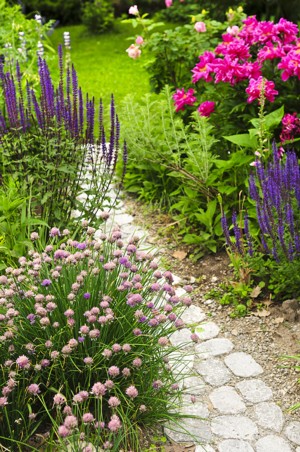 By Tracey Hordern 
We have an idea what living in Queensland might be like;one never-ending holiday. But is there a recognisable and discernable lifestyle defined by Queensland? For instance, is there contemporary architecture in Queensland that's particular to the sunny state? And essentially, do Queenslanders live in their homes differently compared to other Australians living in other states? 
And if so, how does this impact building and renovating in Queensland? Talking with various designers, architects, landscapers and pool designers, it would seem a unique Queensland style of living absolutely does exist.
Perhaps it's the close proximity to Asia, maybe it's the perfect weather. If you look to the capital of Queensland, Brisbane, emerging as a casual, yet very elegant city. There's a plethora of interior design stores, home furnishing shops and gardening centres. So it would seem that much of the retail focus in this capital city is geared toward the home market. In other words, Queenslanders like to spend their money and their time creating beautiful homes and gardens. 
For the most part, the Queensland climate is obviously well suited to outdoor entertaining. Much of the renovating and building in Queensland homes includes a focus on the space between the inside and the outside of the home, the area that architects term the 'transition space', which is the ideal place for entertaining at home. 
Whatever you call this space (the verandah, the patio, or the deck) it's without a doubt the most popular place for Queensland families and friends to gather, usually around the state's ubiquitous symbol; the barbecue. Queenslanders it would appear, tend to treat their verandahs and gardens as an extension of their home. The key to successful outdoor living and entertaining here is to blur the boundaries between inside and outside of the home. 
However, with this philosophy of alfresco living, one of the most serious considerations for Queensland homes is the need to place shelter over the outdoor areas that will be used as living and dining areas. The most important reason is obviously to protect skin from the strong Queensland sun, but shelter over the outdoor entertainment areas also makes it more private, practical and less weather-dependant. 
There are many successful and attractive ways to create cover and privacy over outdoor areas. Many companies in the region base their business on this integral part of Queensland design. Companies such as Lifestyle Blinds and Shutters provides a range of shading solutions, while Vogue Vinyl Shutters supplies internal and external shutters that are exclusively made in Australia. Another alternative to create shading is to design a trellis that covers the eating and seating area. 
Queenslanders want their outdoor entertaining areas to fit how they intend to use the space and an emerging trend is many homeowners turning to the professionals to ensure they make the most of their outdoor entertaining areas. Mistakes can be costly, so Queenslanders understand it pays in the long run to get professional advice. An example is many contemporary outdoor areas now requiring outlets for music and lighting. FI Smart Homes based in Noosa, provides unparalleled experience creating entertainment systems that can be enjoyed anywhere in or around the house that you could possible imagine. 
Queensland Architecture:
A Brisbane-based architect, and the recipient of the 2006 Robin Dods Award, Royal Australian Institute of Architects (RAIA) is James Russell who also won the Queensland State Award for the Best Residential House, as well as the commendation in the Royal Australian Institute of Architects Robin Boyd Award for Residential Buildings. 
James Russell believes that Queensland architecture has strong historical roots in the use of timber for building homes. As James tells it; "from our earliest occupation of this particular part of Australia, the way we have 'made camp' has been very casual. Our architecture was developed with the use of a variety of local timbers. These timber designs developed into beautiful elevated light timber buildings, known as Queenslanders." 
He states that Queensland homes, whether they are contemporary or early Queenslanders, generally have wonderful transitions spaces. "We have always given our houses a wonderful depth to them and this verandah space has evolved as the most desirable place to occupy in the house. As our regional approach, our style, has developed over the past 10 to 25 years, our palette of what we build our homes with has broadened to include heavier materials such as bricks, blocks and concrete. But whatever materials we have chosen to use, we have built dwellings that allow comfortable occupation in an outdoor space. 
"In our own work, the projects vary in terms in their use of timber, brick and glass, but all the projects are driven by the main outdoor room as the centre of the house. Many of these 'transition' rooms open up to other rooms such as the kitchen, bringing much of the living areas of the house into transition space. This is what sets Queensland architecture apart – the close proximity to the outdoors. 
"To be able to engage with climate and environment has always been our focus. The variability is in the materials in the making of wonderful spaces that protect from cold winter winds and the hot summer sun and that still allow you to take in the view and surrounding landscape, while being protected from the elements. You essentially recreate enhanced verandah spaces that are liveable. 
"However, I believe the origins of Queensland architecture relies heavily on its European heritage. Settlers adapted their architecture to suit the Australian climate using the materials available. The typical Australian house that evolved was essentially a Victorian home with a verandah on the front and back or skirting all around the house. 
"Contemporary Queensland architecture takes the verandah a step further than the older skinny space that wraps the building. It has become a proper room in its own right. It's become the primary space and the proportion becomes room-like and occupied as such." 
Queensland Gardens and Landscapes:
There's no place more hospitable during the long, hot Queensland summer than the great outdoors, which is why the outdoor space of homes here are such an important aspect of Queensland homes. A well-planned garden can work on many levels. It can be a safe and exciting play environment for children, at the same time as being a place where adults can relax. In Queensland, entertaining out of doors is an almost unbeatable pleasure, friends and family surrounded and shaded by luxurious foliage, perhaps a pool or water feature, and almost always, the welcome warmth of the sun. 
The informality of Queensland home entertaining makes it particularly suitable for entertaining guests of all ages. Accidental spillages matter much less in the garden, children can come and go, and in the case of barbecues, everyone helps with the cooking. 
As a result of the nature of Queensland's weather and a greater dependence on outdoor entertaining, many in this state are happy to spend more money on quality outdoor furniture. It only makes good sense as Queenslanders spend more time entertaining on their verandahs and gardens than they do inside the house, it's logical to forgo clunky, unattractive outdoor furniture for beautiful tables, chairs and loungers for the areas they love spending the most time – their verandahs and outdoor areas. 
One of the most important aspects to consider in Queensland is creating a water-friendly garden, which, today thankfully, doesn't have to be a garden of succulents, gravel and hardy grass. Colourful flowers and lush foliage are all possible in today's water-wise garden. With sustainable design concepts and greater attention to soil care, plant selection, placement and mulching, some of the smartest gardens in Queensland are more akin to a colourful lush oasis. 
Queenslanders need to become more water savvy than ever before. With record widespread drought across Queensland, most of the state is coming to terms with what it means to live and garden with water restrictions. Surprisingly, up to 40 per cent of the water used in households is used to water gardens and 90 per cent of this drinking-quality water is used on watering lawns. Water-wise gardening is economical and environmentally ethical, and can be just as attractive as water-hungry gardens. 
Speaking with Nerida Higgins from Lotus Design, we asked her if she thought there was a particular style to Queensland landscapes. "What we're finding that is particularly popular in terms of style, and what is repeatedly requested, is a contemporary minimalist look. Also, for obvious reasons, water-efficient gardens featuring native and endemic plant species are requested a lot. 
"Gardens in Queensland clearly differ from gardens in the southern states. The most obvious difference is a far more temperate climate, and I believe this has created for us, less formal, and generally a more casual style of garden. In Queensland garden landscapes tend to be relaxed and on the whole, more tropical in style of foliage with Balinese style gardens for instance, popular as our climate suits those plant species. 
"At the end of the day, there is not a real overriding theme for gardens in Queensland, everyone has different tastes, some like the look of clean lines, with little or no clutter. Other clients want natural finishes, or water features and a garden that centres around the pool area. 
"Every landscape we design is created through a process of analysing the site opportunities and constraints, and developing a thorough understanding of the client's requirements. Each individual landscape expresses its own 'sense of place' and identity, as it would anywhere. 
"On saying that, one of the most requested elements that our Queensland clients come to us for, is a desire to create a connection between interior and exterior spaces, particularly through the integration of outdoor dining spaces, swimming pools and water features. Maximising functional use of the outdoor space is popularly achieved with decking and terraces created with retaining walls, also providing spaces for children to play in. Planting also plays a vital role in the enhancement of living spaces. 
"Water-efficient strategies are an integral part of our approach. From the basics, including appropriate soil preparation and mulching of garden bed areas, plant species selection, to creatively incorporating rainwater tanks within landscape structures, and capturing available stormwater from hardscape areas by utilising features of water-sensitive urban design strategies." 
Queensland Pool Designers:
Speaking with Ken Jordan, principal of Jordan Pools and Queensland's Pool Builder of the Year 2007-2008, Ken believes many Queenslanders like not only to have pools, they like to live around their pool. "In fact the better Queensland homes are designed like this; around the pool area. The weather is so good here that the outdoor area and the pool area should blend in with the rest of the home. 
"It's the area that we all naturally congregate around, the pool area. It's a lot more prevalent outdoor lifestyle here in Queensland. Pools tend to be closer to the house, that way you can keep an eye on the kids, and have your eating area around or near the pool so everyone is included. 
"Many renovations in Queensland are with owners who are happy where they live. The kids are at a school that they like, so they're often looking at renovating the backyard and pool, and it's an instant facelift and can add value to the property. We're finding that new pools are a great way to freshen the whole look and feel of a home." 
Andrew Jackovac from another successful Queensland-based pool designer, Majestic Pools, has some well-informed insight into what makes a great Queensland home. "Our style in Queensland definitely incorporates outdoor living, pools that are closer to the house, and pools that are definitely a larger element of home entertainment, much more so than Victorian houses in New South Wales, where they would not focus so much on outdoor entertaining. 
"By incorporating the outdoor design in conjunction with the home you can really add value to the property. In uncertain financial times like these, things are tighter and homeowners are more likely to spend money on the home they already living in. We're seeing this as a result of less people buying a second home or an investment property. What money they do have, they are far more likely to spend it on themselves and what makes their life more enjoyable. The reality is, that spending money on creating a great backyard and pool area can add value. 
"We're also seeing people spending smarter and doing it with good design. The outdoor area of homes is so important here; you actually can get more back on your investment – if you do it right. The variety of pool styles is so varied now; there are natural freeform pools, hard-edge lap pools, and everything in between. It really depends on the style of the home. We like to match pools to the overall style and feel of the home. 
"Sustainable water saving has recently crept into design. What are increasingly popular are sustainable and sub-tropical design pools. There's a lot more glass used in the design, creating a wet–edge pool effect. This new design saves the evaporative effect of water running over the edge, as quite a lot of water is lost in wet-edge pools. To get that same look we have the whole edge of the pool inserted into the concrete shell and then the water comes half way up the glass it looks as though the water goes off the edge but it is actually under glass. A lot of technology has also moved into designing the water-smart pool. At Majestic Pools, we have developed an eco pool accreditation scheme, where we can start to rate a pool's water efficiency. 
"When we work with clients we ask them a lot of questions. For instance, where is the sun in your garden? Is this pool going to be in the shade, and if so, at what time of the day? It's also important to know who will be using the pool. Are they planning on selling the house? Do they entertain a lot? If so, what sort of entertaining? All these are important questions as a good pool is one of the largest investments you will make, so it's important that you spend your money smart. After all, it Queensland and you want to make the most of that." 
Queensland trends:
Outdoor Rooms
By blending the interior of your home with your outdoor area, you can literally create an extra 'room' to relax in, or a space to entertain. The fundamental components of the outdoor room are overhead shelter, decking or solid flooring, a kitchen area and a dining setting and comfortable weather durable lounge chairs. 
Outdoor Furniture
Quality outdoor furniture should be a considered investment in an environment where so much time is spent outdoors. There are an increasing number of companies that specialise in stylish outdoor furniture. But be sure to be practical when it comes to choosing; you will want the furniture to last and hold up to the elements and you will also want the furniture to be in keeping with rest of the house. You'll find that there are plenty of attractive options available as retailers are responding to the demand for quality and stylish outdoor furniture. 
Shade and Shelter
Shade and shelter is paramount in Queensland. The rate of skin cancer is extremely high and it's absolutely essential that you plan shade areas in your design. Ideally you want to use your outdoor entertaining space year round and with good design and shelter you should be able to entertain virtually at any time of the year. 
Outdoor Lighting
By installing outdoor lighting you can use you space sensibly at night as well as create an appealing ambience. As well as installed lighting there are also alternative options such as easy to install solar outdoor lighting as well as citronella candles that also act as insect repellent. 
Barbaque
We all know how to impress when it comes to entertaining in Australia. Invest in a quality barbeque; it will pay for itself many times over. There are so many great models now to suit every size family. As well as barbecues, appliance companies now have grills, outdoor ovens, sinks and fridges so you can literally set up a second kitchen in your outdoor entertaining space. 
Water, Water
It took us a while to catch on to the Asian concept of adding water features to the garden to create ambience, but today we have enthusiastically embraced the idea. There are many options available, from small and compact designs to sheets of water running down stonewalls and waterfalls that run into pools. Water features and lap pools are also great options if space is limited and you don't have room for a larger pool. 
Sound Investments
On the increase is the request for quality sound to be made available for the outside area surrounding the house. Companies can now create sound solutions that feature the latest technology and are of the highest quality for your outdoor area. 
Contact details:
All Shores Landscaping
P.O. Box 1284, Mooloolaba Queensland 4557
Tel: 1800 826 434
Website: www.allshores.com.au  
FI Smart Homes
3/3 Gibson Road, Noosaville Queensland 4566
Tel: 07 5455 6300
Website: www.fismarthomes.com.au  
James Russell Architecture
116 Brookes Street, Fortitude Valley Queensland 4006
Tel: 07 3257 0818
Website: www.jamesrussellarchitect.com.au  
Jordan Pools
P.O. Box 598 Golden Beach, Sunshine Coast Queensland 4551
Tel: 07 54 397 500
Lifestyle Blinds And Shutters
68 Business Street, Access Business Park, Yatala Queensland 4207
Tel: 07 3382 5999
Living Water Designs
2/9 Fremantle Street, Burleigh Heads, Gold Coast
Queensland 4220
Tel: 07 5593 7070
Website: www.livingwaterdesigns.com.au  
Lotus Design
P.O Box 499, Springwood Queensland 4127
Tel: 0410 569907
Website: www.lotusdesign.com.au  
Majestic Pools
1666 Old Cleveland Road, Chandler Queensland 4155
Tel: 07 3245 2111
Website: www.majesticpools.com.au  
Shelta Interiors and Gardens
37 Latrobe Terrace, Paddington Queensland 4064
Tel: 07 3368 3800
Website: www.foundinfrance.com.au  
Vogue Vinyl Shutters
14 Josephine Street, Loganholme Queensland 4129
Tel: 07 3209 7744
Website: www.vogueshutters.com.au