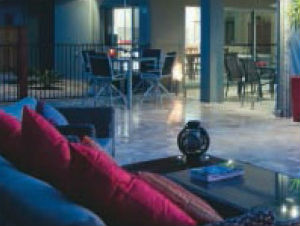 With an area for every occasion, this garden is more than equipped to entertain
With young children and a penchant for entertaining, the owners wanted to transform their barren backyard into a place where everything from dinner parties to children's play could take place. This is where Serene Scene Landscapes stepped in.
The large backyard was divided into sections to meet the clients' requirements with the overall style best described as tropical. Large, uncluttered open spaces were created so clear sightlines could be maintained throughout the garden.
When first stepping out into the rear garden, an alfresco dining room is ready to tackle casual barbecues with family and friends. This dining area is sectioned off by a frameless glass fence, which keeps the children safe from the water and allows the parents a clear view of the pool.
The concrete masonry retaining wall surrounding the pool is a feature unto itself. Built into the pool, it has a discreet water feature, with water gently flowing out of three hidden spouts and over the stone face. This water feature is a key focal point that can be seen from the rear rooms of the home as well as the alfresco dining area.
Around the pool, French white marble tiles with a repeating pattern of squares and rectangles provide an informal, less severe feel to the space. To complement the pool area and break up the solidarity of the flooring, a timber decking was installed. LED garden lighting was used in the boards around the edges to highlight and provide guidance at night.
For relaxation, a gazebo was built for the rear corner of the garden. The perfect place to relax on the weekend, it complements the home's façade and reinforces the tropical theme.
Plants were chosen to screen out neighbouring properties and, because the owners wanted to keep the area low maintenance, hardy qualities were a requirement. Plants were also selected for their architectural qualities to bring an element of drama into the landscape. Serene Scene Landscapes did a fantastic job of finding the right plants that covered all the bases, including a mature Pandanus palm, which was chosen as the key living focal point and can be seen from every zone in the landscape. Other plants used included bromeliads, giant bird of paradise, Bismarck palms, yuccas, Slender Weaver's bamboo and frangipani — all of which have striking architectural characteristics.
From large-scale parties to intimate dinners, this rear garden is ready to entertain and, thanks to the high-quality materials used, it's sure to impress, too.
Project details
Landscape design and construction by Serene Scene Landscapes 150 Government Road, Richlands Qld 4077 Phone (07) 3879 2433 Mobile 0413 875 921
Email admin@serenescenelandscapes.com.au Website www.serenescene.com.au Photography by Glenn Weiss