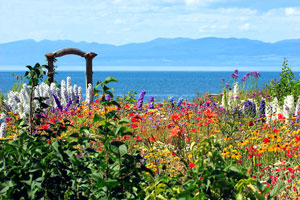 A canal-side garden designed for relaxation or entertaining
Story: Karen Booth 
Photos: Glenn Weiss
Designed to take optimum advantage of the Brisbane climate and its waterside location, this garden has been cleverly set out over three levels. With its picture-perfect view of the tranquil canal and its flexible, multi-functional layout, it's ideal for entertaining.
By reshaping the block and seamlessly integrating the various spaces through the use of the same large-format limestone finish concrete pavers, Wayne Giebel Landscapes has increased the sense of spaciousness.
Reinforced concrete block retaining walls (rendered, painted and capped with double-sided bullnose tiles) were built at different heights to match the terracing and provide additional seating.
In deference to the space constraints and to keep maintenance chores to a minimum, only a limited number of plants were used. The inbuilt planters boast a mix of camellias and lilies, while in various containers you will find lemon, lime and cumquat trees as well as Syzygium australe 'Hunchy' and Cycas revolute. 
In the cool of the shade pavilion, which has been designed to mirror the architectural style of the house, you can relax to the sound of the nearby water feature while you take in the view of the canal and the boats that ply it.