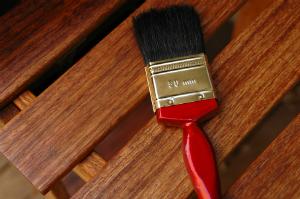 Thanks to a major renovation by Vize Design, this amazing old home has an entirely new look

Before the renovations, Andria Healy from Vize Design Interiors described this house as honestly as she could. "It was a dump. It was dilapidated, unpainted and uncared for. The client's brief for the project was to make the greatest use of the block of land to create a family residence.
"The main body of work completed included raising the house, extending at the rear to form a new kitchen, a totally new deck plus extended living areas. We also relocated some of the existing walls, installed a staircase, added new bathrooms and a downstairs bedroom."
According to Healey, some of the special design considerations of the project were to create a large open living space, utilise the city views, and open spaces to blend the old with the new construction.
"Our main inspiration for the design of the house came from the land itself; the block was facing north so we wanted to make the most of the views, but as it is a built-up area we also wanted to maintain privacy."
When asked about her preferred part of the renovated space, Andria cites the living area and the timber deck as her favourite part of the house. "It has doubled the family's living space but at the same time, it's private," she commented.
Not many designers admit to wishing they had made different choices, but Andria was happy to say that in hindsight, she would have preferred to use aluminium windows instead of timber (less maintenance). "We also should have installed bi-fold doors instead of French doors to open the entire space up more dramatically."
When asked if there were any unusual challenges that they had to overcome, Andria referred to working with the council regulations to keep as much existing structure as possible, and boundary restraints.
Once the house was completed, Andria was thrilled with the result. "The renovation was extraordinary looking — you could tell by looking at the before and after photos. The exterior front façade is superb, and the use of pressed-metal fixtures and timber features creates a lovely Queensland cottage home."
Project particulars
THE PROJECT WAS DESIGNED BY: Vize Design Interiors
71 Old Cleveland Road, Stones Corner, Qld 4120
PHONE: 07 3394 3022
EMAIL: vizedesign@bigpond.com.au
FLOORING: Kitchen: Timber (spotted gum). Dining: Timber (spotted gum). Living: Timber (spotted gum). Bedroom: Carpet — navy twist pile. Stair: Timber (spotted gum). Outdoor: Timber. Other: Downstairs — Sandstone tile 330 x 330
WALLS: Bottom — VJ Boards, Dado Rail, Gyprock. Kitchen/Casual Dining: VJ — Dulux Tangent, DadoRail — Dulux Soft Chamois, Gyprock — Dulux Pale Fino. Kitchen: Dulux Tangent. Dining: Dulux Tangent. Living: Dulux Tangent. Bedroom: Dulux Tangent
KITCHEN: Benchtop: Timber. Splashback: Glass-painted Dulux Alaskan Cruise. Cabinetry: Laminex — Flax
SANITARY FIXTURES + BATHROOM FITTINGS: Bathroom: Bath: Traditional claw bath. Basin: Timber vanity. Tapware: Brass fittings
LIGHTING: Brass & timber
WINDOWS + EXTERNAL DOORS: Timber
OUTDOOR: Landscaping, decking, shading or paving details: Large covered timber deck that overlooks fantastic city views
EXTERIOR COLOR SCHEME: Roof: Colorbond Surfmist. Facias & Guttering: Colorbond Mountain Blue. Walls: Dulux Cotton Tail. Top Rail: Colorbond Mountain Blue. Rails: Dulux Cotton Tail. Doors & Windows: Timber