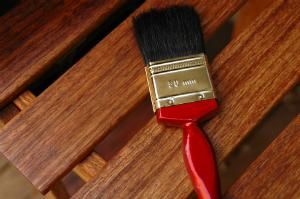 Architect Ed Ewers transforms a damp and dark terrace into a spacious and light-filled contemporary home
Words by Melanie Gardener
Architect Ed Ewers designs contemporary spaces for a living and when it came time to revitalise his own 1882 terrace, he was able to indulge his love of late 20th century architecture to create a unique and individual space.
"I wanted to use plenty of concrete," he says, "and to celebrate the 'craft' of building. To embrace the space rather than the finishes, I deliberately shied away from the cliché high-end finishes and kept to a very raw palette of materials," he says.
Ewers had worked for American architect Will Bruder as a student and credits both Bruder and another American architect, John Lautner, as his primary design influences. Before commencing work on this personal project, Ewers undertook several fact-finding trips to the USA to gather information and inspiration.
The work undertaken was extensive. Only three external walls were retained and the interior has been completely remodelled and extended. With a narrow site and interior space of only 3.7 metres, Ewers felt it was important to achieve a level living area to ensure the maximum use of the space available. A massive excavation, involving the removal of around 80 cubic metres of soil, was carried out to keep any level changes throughout the house to a minimum.
The other homes in the neighbourhood had similar heritage façades so it was essential to Ewers that the end result be in keeping with the style of the suburb but allow for maximum functionality within the cramped space. Such a narrow block called for some clever design tricks to allow the light and air to penetrate the space without compromising privacy.
"The position of the windows on the laneway maintains privacy but they frame small vignettes of neighbouring trees rather than just looking out to a bluestone laneway," he says.
In keeping with the raw materials theme, Ewers has used finishes that include off-form concrete for the walls and benchtops as well as steel, timber and aluminium for the doors, windows and handrails. Even so, the space exudes a warm aesthetic that relies much on the successful use of space, good proportions and abundance of natural light.
The finished home is a visual delight with every centimetre of available space put to good use. Even the handrails have been cleverly recessed into the walls to reduce the encroachment into the stairwell. At the rear, the open-plan living and kitchen area is the perfect spot for entertaining with a stunning pivot, lift-up door that enables direct interaction with the deck area.
This further blurs the boundaries between the indoor and outdoor rooms, giving the owners full enjoyment of the space during the warmer months. The need for a dining table has been dispensed with by the use of an island/breakfast bar that can be used as a formal dining table when entertaining but can just as easily serve as an informal breakfast spot or the perfect place for children to do homework after school.
When working with a narrow space, it's essential to exploit every opportunity to increase light and air to provide a sense of spaciousness throughout. Blond wooden floorboards in recycled Messmate, together with a white-toned wall palette, are just the start. Ewers has also included high-set rectangular windows in judicious measure as well as a feature front door with vertical rectangular glass panel to make the entranceway shine with welcoming light.
You can tell an architect is happy with the end result when he admits he wouldn't change anything about the project. "We worked on site with the contractors and made lots of design changes and detail decisions as we went along," he says.
PROJECT PARTICULARS
The project was designed by Ed Ewers of architecture matters, Level 1, 178-182 Rosslyn Street West Melbourne Vic 3003. Phone: 03 9329 7063, email: edewers@architecturematters.com.au or go to www.architecturematters.com.au. The project was built by Ron Bronson Homes with Adrian Hoekstra and architecture matters. Phone Ron Bronson Homes on 0418 535 418.

FLOORING
Kitchen/meals/living & kids areas: Recycled Messmate from Urban Salvage Phone: 03 9391 0466
Bedrooms: Plywood floors
Stair, bathrooms: Rubber — white
Outdoor: 80×26 Australian white cypress decking from Gary Frencham Pty Ltd Phone: 03 5241 8000
WALLS
External: In-situ concrete, Customorb — Surf Mist, Australian white cypress, shiplap siding — stained
Internal: In-situ concrete, Australian white cypress, shiplap siding – oiled, Plasterboard
KITCHEN
Benchtop: In-situ concrete — ground & sealed GVA solid laminated white birch — oiled
Splashback: Concrete, mirror
Cabinetry: Vinyl wrap cabinetry in white by Chaucer Cabinets Phone: 03 9728 2399
Appliances: Miele
SANITARY FIXTURES & BATHROOM FITTINGS
Tapware: Accent Intamix Borma, Dorf Profilo Bloc
Toilets: Fowler Newport pan with Caroma Water Wafer in-wall cistern
Basins: Duravit Scola, Caroma Leda Vasque semi-recessed
LIGHTING
Inlite throughout
WINDOWS & EXTERNAL DOORS
Capral Narrowline 400 series with Pilkington Comfort Plus glass
Custom pivot lift-up door & front steel & timber door
OUTDOOR
Fences: Recycled jarrah (third re-use) fence, and Laserlite polycarbonate — Opal
"The whole philosophy was to celebrate the 'craft' of building and to embrace the space, not the finishes."
TIP: Recycled timber is a fantastic way to bring warmth and character to any renovation project. And the timber can be used more than once, as Ewers has done here with the recycled jarrah fence on its third re-use.