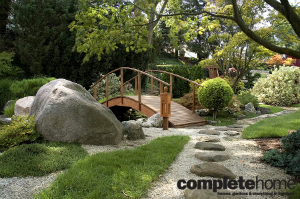 Following a major makeover this Brisbane family now has an all-seasons garden

Overgrown, outdated and lacking in designer appeal, this Brisbane backyard may have boasted a pool but no-one in the family was tempted outside to use it. And with a gaggle of restless teenagers to keep entertained, creating a series of inviting, user-friendly outdoor spaces with plenty of room to move was considered essential. Clearly, a major makeover was called for.
"The existing garden was an overgrown jungle with rotting sleeper walls, cracked paving and an old bush rock pool," explains landscape architect Jeremy Ferrier. "The brief from the homeowners was to update the garden to complement recent renovations to the house and to create more usable open spaces for relaxation and entertainment."
Jeremy decided upon a garden style he describes as "contemporary sub-tropical" but before the new design could be implemented, the cluttered elements of the previous garden had to be removed and the site cut and filled to create usable flat platforms. This done, a series of simple outdoor spaces could be introduced, each space flowing effortlessly to the next.
"The water feature is a key element of the design. Big, bold and modern, the feature provides the visual link between the indoors and outdoors enticing people out into the garden as well as forming a dramatic backdrop to the outdoor dining area," continues Jeremy. "Another key element is the series of curving grassed terraces, which provide a soft, expansive and relaxed link between the pool area and the adjoining open grassed area."
The plants are a mixture of sun-worshipping flowering shrubs such as gardenia (Gardenia augusta) and bird of paradise (Strelizia reginae) as well as broad-leafed shade-loving plants such as the peace lily (Spathiphyllum) and elephant's ear (Alocasia). Enclosing and framing hedges have been formed using lilly pilly (Syzygium) species while at ground level contrasting bands of mondo grass (Ophiopogon japonicus) have been used to create a carpet-like pattern of curving lines and shapes.
Stained timber batten screens provide a degree of privacy while in the hard-wearing areas the paving is a mixture of coloured concrete paving and pre-cast stone pavers. In the less-frequented areas decorative gravels have been used.
Designed to appeal to young and old, this transformed garden has received the best accolade possible — the family are never out of it!