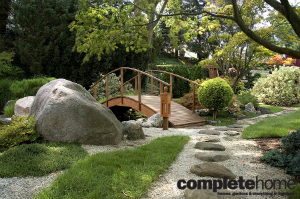 Strategically placed artworks give outdoor rooms increased impact and enhance views from indoor rooms 
Story: Carrol Baker
With the trend towards outdoor living areas and garden rooms, innovative artworks are taking centrestage in many contemporary Australian urban landscapes.
A stylish work of art in your garden makes a bold statement about your personality and style. Modern garden art encompasses many forms – there are sculptures, fountains, water features, garden arches, murals, paintings, wall plaques and more.
Outdoor prints on canvas are emerging as a new trend, to complement existing forms of outdoor art. Weather-resistant technology, incorporating special composite aluminium paint, means artworks are suited for exterior use. Paintings won't fade in the harsh sunlight, or mildew in damp conditions. This new generation of fine art is setting the standard in outdoor artistic innovation.
There are also more choices for those with smaller gardens, with wall mounted plaques making a big impact, allowing you to indulge your artistic flair without losing precious space. Outdoor wall plaques come in a range of styles, from modern metal with sleek lines to rustic, traditional, and even playful or whimsical designs.
Modern garden art is characterised by clean flowing lines, elegant form and timeless design. Current trends are diverse, but there is a move towards more abstract art forms in the garden, says landscape designer David Kirkpatrick of Outdoor Creations. "We're seeing an emergence of contemporary stainless steel sculptures, eccentric bronzed pieces, and concrete and fibreglass freeform designs," he says.
A sculpture is a living piece of garden art, according to David. "Different plantings around it create different views on it, in winter time it could be partially covered in moss, clever lighting can also add appeal," he says.
One look is fluid, and modern — a blend of organic shapes infused with life. "This emerging trend of garden art is made from foraged and unusual objects — welding together a pair of secateurs, a metal table, and an old plough blade for example," says David. Another contemporary look is carved stone like granite or limestone.
Garden art is a unique reflection of your individual style. But no mater what style of garden art you chose — check that it harmonises with your garden, and your home, says David. "An abstract piece of art may look out of place in a formal, geometrically designed garden," he says.
Will your garden art stand the test of time, or could it be easily damaged by harsh sunlight, boisterous pets, or children's toys? Will the colours complement or stand out from the colours of your garden?
When deciding on what sort of garden art you'd like, there are many options. You can select cheap and chic mass produced designs, available from nurseries, markets, and home wares stores. Or why not consider DIY garden art? Visit your local library, or check out some art classes, and let those creative juices flow. Young children can also participate and design their own distinctive garden art.
Another alternative is to opt for sourcing a unique piece of garden art from an Australian sculptor. "A good sculpture is like fine art – it's likely that your initial investment will increase in value over time," says David.
Australia has an abundance of skilled sculptors who accept private commissions. Some work in natural stone, others in metals such as bronze, others experiment with various media incorporating glass, tile and other materials to create distinctive, one-off pieces. Choosing an artist whose style you like is of course essential but they need to be open to your ideas and capable of translating those into a sculpture that complements your landscape and is an expression of your sense of style while still bearing the artist's signature style.  
This is a long term process — and a not inexpensive one – so planning ahead is important.
When deciding on your garden art — do your research suggests David. This applies to commissioned pieces and off-the-shelf art works. "Think about your individual style, your tastes, visit galleries and see what style of artworks and sculptures inspire you," he says. "Your outdoor art is an investment, so be sure what you are getting is something you like, and can live with for a long time."
Location, location

Think about where you will be viewing your artwork from — positioning pieces so they can be seen from the window or through the open door of a house is just as important as locating them where they can be enjoyed from key vantage points in the garden. By doing this you not only increase your enjoyment of your new sculpture or wall art, you help to establish a better visual connection between indoor and outdoor spaces.
In a small garden or courtyard, if you place your artwork in a far corner or, say, at the end of a path you help to draw the eye to the boundary line, visually extending the space. At night, uplighting will help to give the impression of added depth.
In a larger space you might place an artwork such as a sculpture in a more central position but wherever it's placed, what the viewer sees in the background is important. For the piece to have maximum impact, the background must complement it, allowing it to be the focal point, not distract from it.
A piece set in front of a wall, screen or hedge can work very well. A mid-height to tall hedge of evergreens is a traditional backdrop for more formal pieces but can work well with modern pieces, too. A sculpture set in front of a rendered and painted wall, a wall clad in vines or a screen of stained timber battens or bamboo can also look very effective.
To make your artwork really stand out, you can frame it by placing it beneath an archway or arbour. Or you can place it in a bed of gravel or coloured river pebbles, bordered by cobblestones, pavers or a ground cover such as dwarf mondo grass.  
Sculpture nestled amid foliage, discreetly place along winding paths or placed atop rock walls is ideal for when you want to create more of a 'secret garden' effect where the artworks contribute to the overall ambience of the space, not dominate.
Getting practical 
Stone is porous, especially sandstone and limestone which are particularly attractive to moss and lichen. This can give an aged effect that many like, but if you're not one of them seal the stone and clean regularly.
All metal left outdoors will change in colour or patina over time. Again, this is a look many people find appealing. To prevent or minimise this, glazes or finishes can be used but these will change the look of the piece.
Artworks made from cast concrete can crack in dramatically fluctuating temperatures, so keep this in mind. If used in conjunction with a pond or as part of a water feature, seal to prevent lime leaching.
If you have children or use your garden for sports, it should go without saying choose pieces that won't break or chip easily. And it is always a good idea not to put artworks on walls or steps where people can easily knock them off.