With a large range of fencing options available, Bunnings Warehouse is the place to go.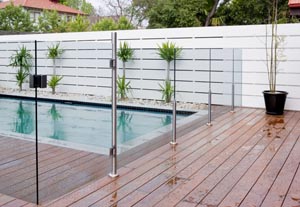 While the primary purpose of a pool fence is to make the area safe, there is no need for it to be an after thought. Plan ahead and choose a fence that complements not only your pool, but also the style of your home.
Bunnings Warehouse has a full range of fencing products to suit your style and budget. These days there are plenty of options available, including aluminium and the increasingly popular semi-frameless and frameless glass fencing.
Highgrove Glass Fencing Solutions has a semi-frameless glass fencing product that is new to Bunnings' Do-It-Yourself range. All panels are 12mm toughened safety glass to meet the minimum Australian standard requirements. The marine-grade stainless-steel posts are resistant to stain and rust, making them perfect for poolside use, and are a functional and stylish addition to your outdoor living area.
Highgrove also has a frameless glass fencing system that only requires a mini post or spigot to hold the glass in place. With this product you have the option of DIY, or purchase and have it professionally installed.
Additionally, Bunnings has an underground glass fencing option, which can be the cheapest system to apply as only the glass is required, with no spigots or frames necessary. This system can be fitted under decking, into concrete or an aluminium channel system.
To see the full range of products available, head in-store and chat to a member of the friendly team.