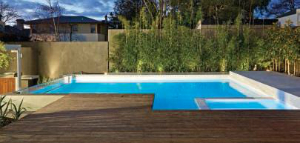 Well chosen and well placed, a new wall or screen enhances the design of a garden
Words: Karen Booth
With most backyards now designed as a series of garden rooms and with issues of privacy a matter of priority in most urban areas, screening and walling have never had such a key role to play in the design and functionality of our outdoor spaces.
Before deciding whether your garden requires a wall or some type of screening, you first need to define its role. Will the new structure be called upon to serve a purely
practical purpose or do you want to introduce a vertical element into your garden to contribute ambience, subtly delineate a space or function as a focal point?
While screening often plays a more decorative role, it can have many practical applications. Well-chosen screening can hide an outdoor living space from a neighbouring property or mask the view of something unsightly such as bins, a clothes line or pool equipment. Screening can also be attached to an old fence to give it a new lease on life.
When you want to create a solid barrier, introduce a noise buffer or definitively segregate areas, a wall is the way to go. They can also be used in a variety of other practical ways. You might like to build in a fireplace and log storage niche. If it's a low wall, you can build it at seating height and add wide capping so it can be used to seat guests when you're entertaining.
The material you use to build your wall will be determined by its function, of course, but you need to make your decision with an eye to the architectural style of your home and the overall landscape design. For a natural look, stone is always a great way to go. If you can't afford natural stone blocks, you can buy cast-concrete walling systems that replicate the look of stone or you can use stone cladding to dress up a masonry wall.
A new wall is also an opportunity to introduce some art into your garden. This might take the form of a mosaic, a wall plaque, a decorative outdoor clock or an outdoor wall hanging or banner. You can also use your new wall to mount hanging baskets of plants, grow climbing plants over a trellis or why not create a vertical garden? There are modular green wall systems now available that make this a breeze.
And don't forget the lighting. There is a wide range of wall lights now available, from sleek flush-mounted types to lantern styles. Another popular option is the light box. These are usually steel boxes with a laser-cut pattern that is back-lit.
Garden screening comes in myriad styles so one of the first things to decide is do you want something that allows light through? If so, then a screen of timber slats is a stylish option. For a similarly natural look, there is bamboo rod screening or reed screening. Do you need something permanent or moveable? If moveable, there are plenty of portable screens that can be moved from place to place – even folded up and put away when not needed. Will it be a key design element in the garden or does it need to be discreet? If it's to be a focal point, consider a metal screen boasting a laser cut pattern.
If you're trying to keep out prying eyes or create an intimate setting and want a softer look, consider using plants alone as a screening element. Clumping bamboo is a popular choice for natural screening. It is fast growing and the sway of the leaves in the breeze can be quite mesmerising. There is also a wide range of hedging plants that can work well as a screen. For a more traditional look and dense screening, you could use Japanese, Dutch or English box or why not use an Australian native, such as one of the many lilly pilly varieties.