Sydney woodworkers Leon and Ginny Sadubin couldn't have researched their move to the country more thoroughly, but in the end they felt drawn to Kangaroo Valley, a region Leon had known since he was a teenager.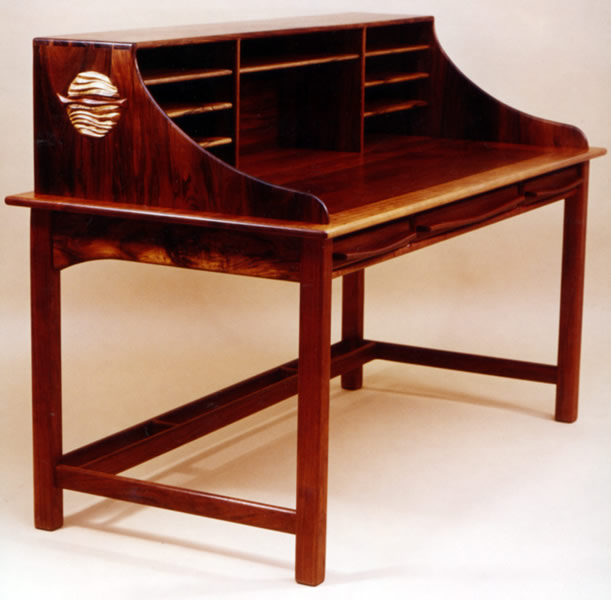 As an arts student with majors in psychology and history, Leon spent rewarding uni vacations in there teaching art, sculpture and music classes at Chakola, a children's camp run by mountaineer and adventurer Warwick Deacock. "One day, outdoor instructor Derek Lucas suggested we climb Wedding Cake Mountain, so we set out with a group of kids," Leon recalls. "The mist rolled in and it was like climbing into the heavens. From that day on, I guess I knew I'd come back." So, in spite of countless holidays to, and trips around, country NSW, the Sadubins found themselves in the Woodhill region near Berry, about two-and-a-half hours' drive south of Sydney.
"We knocked on a farmer's door and asked if there was any land for sale in the area," Leon says. "He said: 'As a matter of fact…' After visiting the block and agreeing on a price, we shook hands and found ourselves the new owners of a hectare paddock of kikuyu, with about a quarter of it regenerated rainforest."
That was in 1991. The couple, who had a long-established furniture workshop, gallery and bookshop in the Sydney suburb of Thornleigh, determined to get to know their land before building on it, so adopted a softly, softly approach for the move from the city. The transition to the bush was not complete until 1999. "We spent a couple of years thinking about the land before we built on it," Ginny says. "Much and all as we love this area, we knew it could be testing. It's quite exposed to the north and west, it's a sloping block and it's very windy. Siting the house properly was very important as it's very much in the elements.
Leon and I pegged the house on numerous occasions, but no matter how we turned it, there was always this big sassafras on the central axis. In the end, we aligned it to the periphery of our view and managed to site the house for optimum sun penetration in winter. We now have a great aspect over the valley which is at times like a witch's cauldron; it's as thoughall the weather is made down there and rises up from it."
The Sadubins built part of their workshop first, then planted the orchard and started work on the house. They chose stone and bagged brick to give the house "some chance of surviving a bushfire" and were determined it would be thermally sound to minimise heating and cooling costs. They engaged local builder Bruce Jenkins from Bomaderry to construct the house to lock-up stage and they have spent the past eight years adding finishing touches. They say there is still work to be done. "At the time we were starting work, we were able to buy the sandstone foundations of a house that was being demolished in Sydney," Ginny explains. "While we were working out what to do with it, it was literally lying in the field. This drew the attention of local landscaper and stonemason Michael Ellis, who dropped by and asked what we were planning. So he got the job of constructing the interior stone walls."
The rest, including much of the joinery and painting, has been done by Ginny and Leon. However, the left over stone was put to excellent use by their friend, Blue Mountains landscape specialist Jim Coghill, who constructed the garden beds and dry stone walls. 
Ginny says. "We're very proud of this work. Like most collaborations on the house, it was a felicitous combination of skills and ideas." 
Leon and Ginny started out camping in a tent while the house, was under construction, but the wind and rain (even in a drought year, they can expect 1300mm) forced them to seek more effective shelter. They ended up buying a former Wollongong council works caravan that now enjoys a new lease on life at the bottom of the property as a gypsy caravan where visiting children can let their imaginations run riot.