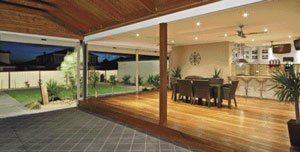 By the pool or by the house, a timber deck is the ideal entertaining space
Atimber deck is an asset in more ways than one. It provides the perfect place for outdoor entertaining, it acts as a transition point between your home and your garden or pool, and it adds considerable value to your home.
Decks can be used for many purposes in outdoor spaces. Whether it's extending your living area, creating a safe place for kids to play, a haven for entertaining guests or even for making better use of a sloping site, decks are both appealing and functional.
To forge a seamless indoor-outdoor unification, simply lay the decking at the same level as the interior flooring, choose decking boards that are of the same width as the internal floorboards and run them in the same direction. The decking can then be stained the same colour as the interior floor surfaces to blur the boundaries between the two. To complete the effect, install bi-fold doors that will open up to invite the outside inside — and vice versa.
Another approach is to integrate special features into the design of the deck — perhaps a pergola-covered spa or a tranquil water feature. And with a bit of creative thought you can turn functional elements into discreet features of the design, too, such as lighting built into step risers, custom-designed railings, integrated planters or inbuilt bench-style seating with a lid that flips up for storage.
To make sure your new deck meets your family's lifestyle needs and will be the perfect complement to the architectural style of your home, you need specialist advice, which is where Deck Me Out steps in. Deck Me Out specialises in the design and construction of custom decks and alfresco areas.
With more than 12 years' expertise in both residential and commercial markets, this Melbourne-based decking business has a wealth of knowledge, construction expertise and innovative design ideas to offer clients in search of the perfect deck.
Deck Me Out staff members pride themselves on listening to their customers' needs and working with them every step of the way. They take great pride in using only the highest-quality Australian timbers, providing workmanship that is second to none, maintaining Worksafe Victoria standards at all times and running a well-organised and clean worksite.
When consulting with Deck Me Out, you can be assured you are dealing with a business of utmost professionalism. They are a member of the Master Builders Association of Victoria, they have a Construction Induction Card (required by Worksafe Victoria before any onsite work can be undertaken) and they have all the necessary insurance.
Other services provided by Deck Me Out include landscaping, Dingo services, cabinet installations and labour hire on commercial sites. They can also arrange plans and permits and, for your convenience, they operate seven days a week.