By Jane Varkulevicius 
How to save the seeds from your pumpkins and squash.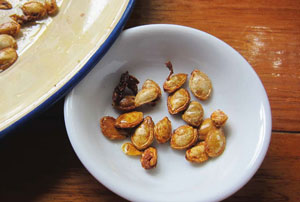 Saving seed from your pumpkins and squash is easy, with none of the fiddle involved with tomatoes. The hard part is ensuring they will come true from seed. Commonly referred to as cucurbits, this family includes squash, gourds, zucchini and a variety of what we call pumpkins. There are three main species: Cucurbita maxima, C. moschata and C. pepo. Cucurbita maxima includes some of the bestknown pumpkins, such as Queensland Blue, Ironbark, Triamble, Australian Butter, Hubbards, Buttercup, Red Kuri and Golden Nugget. If these cultivars are grown together, they may crosspollinate and the seed will possibly be a mixture of any C. maxima grown together. However, they will not cross with other species.
C. moschata includes the Jap, Butternut and Cheese cultivars, which again can cross-pollinate with each other but not with the C.maxima cultivars or members of the C. pepo species, which includes gourds, zucchini, acorn and squash. Whatever species or cultivar you have grown — say a Queensland Blue, a Butternut and some zucchini (one of each of the species) — the chances are your seed will come true to type. However, whether your seeds come true may also depend on what your neighbours have grown. Bees know no boundaries. It could be interesting to see what develops. 
Pumpkins and squash to be used for seed, or storage in the case of pumpkins, should be allowed to ripen fully. You can tell by the stem attaching the fruit to the plant: when it becomes grey and crusty it's a sure sign the plant has finished with it. American studies have shown that the seeds continue to develop and grow up to three weeks after harvest, so this is the best time to extract the seed.