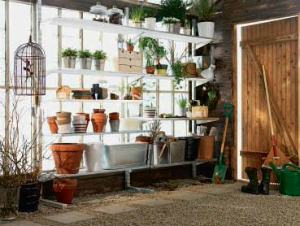 No matter how much space you have, having good outdoor storage is essential
By Sunny de Bruyn
Storage is a problem in most houses: where on earth do you put all that stuff? Blankets, cushions, camping gear, tennis racquets, golf clubs, umbrellas and heaters … the list goes on. Outside is no exception and, to make the most of the space you have and to keep it looking neat and tidy, clever storage is a necessity.
However, before you go out and buy a bulky cupboard or set of shelves, think outside the box (literally): how can storage be incorporated into the existing furniture? We love anything that has two functions, such as a bench seat that doubles as a storage box for pool gear or firewood; a daybed that has drawers underneath for cushions and table linen; or a coffee table with drawers or a shelf underneath to store coasters. 
Thinking big
Why not consider a shed? Plastic, metal and wooden sheds are available in every shape and size and can fit even the smallest spaces. Some look more like cupboards and others have the classic "cubbyhouse" shape but the options are endless. They don't have to be ugly, either; you're bound to find one to suit the exterior of your home and the style of your outdoor furniture and garden. And, best of all, a shed can be screened easily with some lattice and a few creepers, such as honeysuckle or jasmine.
Finding space
There are a lot of things that need to be stored outside the house. To help you plan the most efficient storage, make a list of all the things you need to hide away. Here are just a few examples:
•pool equipment and toys
•gardening tools
•cushions, seat covers and throws
•lawn mowers
•deck chairs and umbrellas
•rubbish bins
•logs for outdoor fires
Get decked out
If you have a deck, don't let the space underneath go to waste! With minimal effort and expense you can turn this area into a storage unit. To keep your things protected from water and becoming weathered, you'll need to install some sort of waterproof membrane or vinyl covering below the deck. To keep it looking neat, tack some lattice along the side and plant some shrubs or creepers.