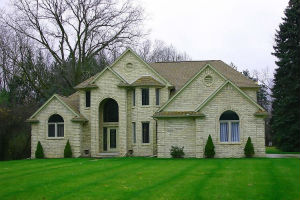 Selling a home can be a very competitive business, so you need to put your best foot forward
Story: Karen Booth
We've all watched enough property shows to know that when the time comes to sell your house, you need to clear out the clutter, finish any renovating jobs that have been languishing for months (or years), and give everything a good clean.
We all want to get the best possible price for our homes and to do that you need to look outside, too.
Street appeal
First impressions are all-important and what is the first thing a prospective buyer sees? Your front garden. In fact, if they don't like the look of your property from the street, they might just drive right by.
Cross the road and look back at your house and garden. Be honest. Does the exterior of the house need a new coat of paint? Does the fence need repairing? Are there any dead or dying trees? Pavers that need replacing? Junk that needs removing?
The canny prospective home buyer will be armed with a checklist of things they want and the more boxes you can tick for them, the better. And one of the things most people want from a yard, both front and back, is something low-maintenance — a garden that looks unkempt and wild will suggest to the would-be buyer that it takes a lot of work to keep things in order and that it simply got too much for you.
It should go without saying but weed the garden beds, replace missing plants, trim the hedges, give shaggy shrubs a hair cut, repair any damage to garden paths or driveways and mow the lawn. But this is just the bare minimum. To maximise the sale price of your property, a quick makeover might be in order.
Mini makeover
Once again, take a long, hard look at your house. Is there enough greenery surrounding the house, or does it look too bare? What about colour? Would your front garden take on a vibrant look if you added some garden beds mass planted with flowers or created flower borders along either side of the front path? How about planting flowers in front of the fence — there are plenty of hardy growers like agapanthus, liriope and roses that will do the trick.
Defining garden paths with border plants adds structure to a garden and makes the journey from front gate to front door more appealing. There are plenty of strappy-leafed plants you can use, from the dianella to mondo grass. Strappy plants can also be used to soften the look of a garden that has a lot of hard paved surfaces.
To create a sense of arrival, place matching pots or urns on either side of your front door and plant with something colourful and striking, such as a burgundy cordyline. Fill in empty spaces under trees or exposed patches between older plantings with under-storey plants.
Rear gardens
The same principles apply to the backyard — the area needs to look neat, tidy and low maintenance. All structures — decks, verandahs, pergolas, gazebos, garden sheds — should be sound, safe and looking well cared for. Pools and spas should be clean and in a state of good repair.
If you have bare patches of lawn, re-turf. If the bare patches are to the side, perhaps creating a garden bed that then becomes a lovely border for the lawn is another option.
A backyard also needs to have lifestyle appeal and, if possible, convey to a prospective buyer that it is a functional and flexible space. A prospective buyer will be standing in your backyard trying to imagine themselves relaxing outside with a cup of coffee and the Sunday papers, hosting an alfresco lunch with friends, or kicking a ball around with the kids.
Privacy is a key element. A garden that is overlooked by its neighbours doesn't have the same appeal as one that creates a sense of sanctuary. You could invest in some mature plants as a screen, or some quick growing bamboo; or you could add some screening to the top off an existing fence, or you could erect some trellis panels and plant some fast growing vines.
Another option to provide privacy on a deck or verandah is to add side awnings or screens.
Focal points
Consider focal points. A water feature is the perfect choice. And if you live in an area where traffic noise is an issue, a bubbling or cascading water feature can help muffle the noise while creating a relaxed ambience.
And, of course, don't forget the power of flowers. No matter what time of year you're selling, your local garden centre will always have a selection of bedding plants in bloom so buy some and give your garden a fresh burst of colour. Flowering plants in pots — whether placed on an outdoor dining table or in the corner of a patio or courtyard — will also help to set the scene.