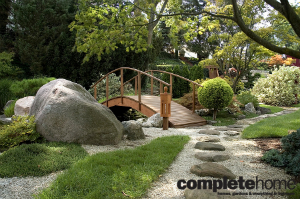 This exquisitely simple design captures the essence of the traditional Japanese garden
Story: Natalie Raad
Photos: Patrick Redmond
Simplicity, symbolism and peaceful ambience are the signature traits of an authentic Japanese garden, as one Melbourne designer has discovered.
Christian Jenkins, of Christian Jenkins Designs, has created a true Japanese retreat, with his Melbourne garden featuring all the intrinsic principles inherent in oriental garden designs.
The feature rocks in this garden are very much in keeping with Eastern-styled designs. Rocks are the bones of a Japanese garden. Hence, if you've properly placed your stones in the garden, the rest of the garden should lie itself out for you. Christian used the different varieties of granite available in Melbourne for his garden design.
The garden has a coarse river sand as its finishing mulch. According to Christian, not only does this river sand sit perfectly in the oriental style, it is also one of the most practical mulches for a garden given that sand is an excellent conductor of heat, keeping the root zones warm in winter and cool in summer. River sand also has good water storage ability, enabling it to retain moisture better than other mulches.
Christian's garden is highlighted with one of the most traditional features of Japanese designs: rice paper walls. A large emphasis is placed on fences in the oriental garden – the symbolism being that of enclosure. In order to make a garden a true Japanese retreat, it must be sealed off from the outside world.
By combining bridge sleepers with cream-coloured shade cloth and four bamboo poles, Christian has successfully managed to frame his garden and make it its own separate entity.
Timber decks are often used in Japanese gardens. However, the pathways tend to be curved so that you can't see the end. Here, the decked boardwalks guide visitors through this garden with two meditation decks acting as semi-focal points.
According to Christian, when using pavers, the best shape is that of a rectangle. For his garden design, Christian used off-white 600mm x 300mm pavers laid with a staggered pattern to reflect genuine Asian techniques.
"The small timber light houses add some nice textural interest, each with a garden light, that add subtle interest to the design," Christian explains.
Water is an inherent part of every Japanese garden design, with its sight and sound there to remind us of the relentless passage of time.
The natural river is the best form of water feature in Japanese gardens, finished off with a bamboo spout to create a simple yet dramatic effect. The sound of water falling from the spout is also a calm, soothing sound, adding to the overall harmony. By adding a granite or stone bowl for the spout to flow into, the water bowl can then overflow into the pond.
Plant selection is also important in these oriental garden designs. "Traditional Japanese plants are so much fun to work with," says Christian. "I included the dwarf crape myrtle with the hot-pink flower for fun and to excite the eye when in flower. It also represents winter when it loses all its leaves."
One of the key features of this garden is its simplicity, which is in keeping with Japanese philosophy. Oriental gardens are, overall, simple designs, where everything is kept to a minimum. The outdoor furniture used in Christian's garden was chosen purely for its simplicity.
"My theory on garden design is that there should be no standout feature in the garden, rather a combination of elements complementing each other," he says. This is evidenced in this Japanese-style sanctuary.
Like authentic Japanese gardens, Christian's design will not date or lose its appeal. By adopting a well-thought-out, drought-tolerant planting theme, Christian has also managed to make this classic garden design suitable for Australia's harsh climate conditions.
"This type of styled garden is no doubt my favourite, even surpassing my love for the contemporary-styled design," Christian says.
By adopting the design principles inherent in oriental gardens, we can all create our own oriental hideaway and capture the spirit of the Japanese garden in our very own backyard.