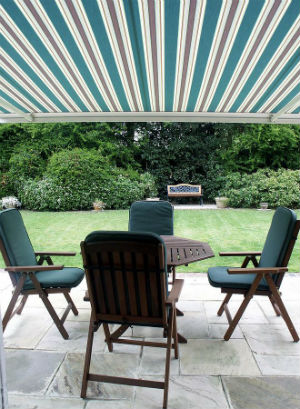 Inspiring ways to give your outdoor room a quick makeover
By Sunny de Bruyn
A shade sail or awning is the perfect way to give your outside area an instant upgrade. They're designed primarily to provide shade over an outdoor area, but a sail or awning also has the added benefit of defining the parameters of the space thereby creating the feeling of an actual room — after all, it's giving you a roof! A shade sail also creates a focal point for the area and enables you to arrange furniture within its edges, giving the illusion of a cosy hub.
You can buy them ready-made or get one custom-made by a sail maker, canvas manufacturer or one of the many shade sail companies. They can be relatively simple fabric sails fastened with bolts and turnbuckles or sophisticated structures that retract on rails or using a cable winch.
Before you start
Before you buy one or start installation, you need to decide the most suitable location for the sail and the right one for the area. There are a few small but important things you need to consider:
The direction of the sun

The size of the shade sail or awning

The location of any barbecues

The strength of existing structures intended to be anchor points

The ability to insert fixing posts if needed
   
Fixing points
Once you know where you're going to put it and how big it should be you'll need to decide on the most suitable fixing points for each corner. Existing structures such as a pergola, fence post, large tree or fascia can work. If none of these is available, you'll need to put in a post. It's vital to ensure that fixing points are structurally sound. If you're not sure, consult a builder or the sail manufacturer.
How big?
Measure the area you want to cover and match a sail to this size. Small sails can be supported by timber posts or structures, whereas larger sails need strong steel posts, so keep this is mind when deciding on how big to go and how many to install.
Installation
The two main ways to tension a shade sail are with stainless-steel turnbuckles or a pulley system. If you want your shade sail or awning to be up permanently, the turnbuckle is the best option. If you're looking to install one that is used only on an occasional basis, though, the pulley system is ideal and can easily be set up and taken down in minutes.
Unless you consider yourself a seasoned DIYer and have the right tools for the job, it's probably best to get a builder or sail manufacturer to install your sail or awning. The will be able to assess whether the existing structures in your yard are suitable for anchoring the sail or whether poles will have to be put in. If poles need to be installed, this will require digging holes to the right depth and cementing them correctly as well as ensuring they are the correct height and distance apart to achieve the tension needed.