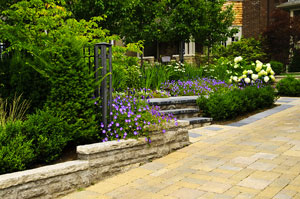 Wanted: a workforce of hardy native plants to transform a barren rocky garden
Story: Carol Smith                  
Photos: Brian Smith 
I needed plants for my garden in the rocky hills of Wodonga in northeastern Victoria. With no town water, acidic decomposed granite for soil, and weather conditions that ranged from freezing temperatures and occasional snow in winter to 40-degree summer heat, this was definitely no place for a shrinking violet.
Enter a fine selection of drought-resistant, frost-tolerant indigenous Australian perennials. A quick study of their required growing conditions and it was obvious they were perfect to fill this situation. Once placed on the job, a "workplace agreement" was immediately implemented and these "little Aussie battlers" have worked tirelessly ever since.                             
Workplace agreement
To get the garden established and keep the plants healthy and happy, the following conditions were promptly agreed to:
1. The gardener must provide a workplace that has light, open soil and good drainage. If this is unavailable on site, a raised area of sand mixed with existing soil will suffice.
2. The gardener will not disturb us by digging around our feet.
3. The gardener will not shove us in damp, stuffy little corners; we need lots of fresh air.
4. The gardener must not wet our foliage when watering, as this causes fungal diseases. Once established, we can survive without a drink but for peak performance the gardener could make a shallow dish in the soil around our bases and fill it with water once a week during dry summer weather. This dish must be raked away once autumn rains commence or waterlogging will stress us, leading to a slow death.
5. Mulch is good. Compost is good. But all things in moderation. The gardener will not bury us up to our necks in this stuff, or the "blue collar rot" will set in.
6. We will also strike immediately if toxic lime is introduced into our work area and we will not tolerate anything but organic food, or food designed especially for Australian natives.
7. While we are extremely adaptable and thrive in temperate, moderately dry regions, we will not tolerate tropical humidity.
Meet the workers
A variety of "employees" were put to work, but some of them have proven to be star performers and what follows is just a partial roll call:
Helichrysum semipapposum: grows to a height of 75cm and has tiny yellow button flowers, borne on each stem in terminal clusters. Its fine grey clumps of fluffy foliage provide an excellent backdrop for smaller summer perennials and a great contrast against green shrubbery or foliage.
Helichrysum apiculatum: is a shorter bedding and spreading variety and, if cut back after the first flush of early spring flowers, will regrow and continue to flower through summer and autumn. It males an excellent groundcover.
Helichrysum bracteatum var. viscosum: also known as the golden paper daisy, is the perfect drought buster. The cheerful, yellow, papery flowers also have a vase life of many weeks and bring a wonderful splash of sunshine inside.
Dianellas: multi-faceted dianellas have something to offer all year round. They have sword-like foliage which contrasts beautifully with leafy shrubbery during winter and they provide a display of tiny, delicate blue-to-purple flowers in spring and summer. But without a doubt, their most striking feature is a mass of glossy purple berries, which on some of the more compact dianella cultivars are 4cm in size and sometimes oval-shaped. The berries make excellent, long-lasting indoor decorations and a stunning spectacle in the garden through summer. However, the occasional bird has been known to spoil the show by devouring them in large numbers. Although generally recognised as plants for shaded areas, dianellas are very adaptable. The Dianella revolute shown on these pages is thriving in full sun and I have seen them growing out in the open in their natural habitat.
Thysanotus tuberosus: also known as the common fringed lily, it grows to 30-35cm and its delicate face is a delight to discover, at random, under trees, among rocks or hidden in secluded nooks and crannies. In mass plantings it's fascinating to see these bush babies close for their afternoon nap around two o'clock and then watch the sea of soft, mauve terminal clusters gradually reopen later in the afternoon. They appear to be equally comfortable in full sun or part shade and flower over several weeks.
Xanthorrhoea minor: the smallest of the grass trees, like its larger cousins, it attracts birds, bees, butterflies and bugs of all description once the tiny whitish flowers are fully formed. The flower spike is usually about 30-35cm long, borne on a stalk up to a metre high. Even when flowering is finished, the dried woody spears look great and will last for many months. Of course, this is not a perennial, but it is quintessentially Australian and worth including for those seeking a long-lived feature plant.
Reaping the rewards
To determine which natives will fare best in your local growing conditions, consult a native plant specialist. Also keep in mind that not all natives that catch your eye will be readily available. The above listed species of helichrysums, for example, may be a little difficult to find as they are only grown by a few specialist indigenous plant propagators and are not widely distributed. However, your local plant nursery may be able to locate them for you.
The great thing about the hardy perennials I have discussed here is they appear as much at home in a traditional or cottage garden as they would in an Australian native garden. But, wherever you decide to employ them, you will be rewarded with an interesting and colourful display and a low-maintenance garden.
About the author: Carol Smith amassed more than 20 years commercial experience growing native plants before becoming a TAFE tutor and writer.