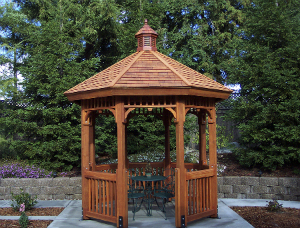 From umbrellas to gazebos, flexibility is the byword of modern-day shade systems
Story: Rebecca Calvert
All winter, summer enthusiasts wait for the heat to arrive so they can enjoy the outdoors. But without adequate shade the blazing summer elements can make your outdoor areas just as inhospitable as they are during the coldest weather. There is a vast choice when it comes to shade so before summer arrives, take this opportunity to think about your lifestyle needs and install some shade in your backyard so you can enjoy every moment outdoors.
Umbrellas
Once a cumbersome nuisance, umbrellas have evolved into a sleek and sturdy must-have for outdoor areas. Best used where shade is only required occasionally, umbrellas are versatile as they can be re-positioned to block the changing position of the sun or removed altogether.
The most common types of shade umbrellas include:
• Centre pole: The most traditional type of umbrella, a central pole supports the weight of the canopy with several arms extending from the pole to the edges. It's generally manoeuvrable and stabilised with a heavy base.
• Crank and tilt: This type of umbrella is similar to the centre pole umbrella but has the added function of a crank apparatus, allowing the canopy to be set at any angle to block the sun.
• Side post/cantilever: The umbrella canopy is supported by a post that is located next to it and holds the fabric from the top rather than from underneath. This allows more room underneath the umbrella and is fitting for alfresco dining and to shade swimming pools.
• Pavilion: This is a square umbrella with a post supporting each corner. It gives shade dwellers more room to move as there is no centre pole but generally needs to sit on level ground.
Materials used in umbrella sails include canvas, shadecloth or PVC. Canvas will effectively block out the sun but will need to be treated to make it waterproof. Shadecloth is water-resistant but not completely waterproof and can block up to 90 per cent of UV rays, while PVC will provide complete protection from all sun and water. To prolong the life of your umbrella, it's recommended to collapse it and place in a protected area when not in use.
Shade sails
Shade sails have become popular in areas where a large amount of shade is required, such as public swimming pools, commercial alfresco areas and people with large backyards. The beauty of the shade sail is that only one sail is required to provide cover for a large area rather than having to use many umbrellas. However, even though the actual sail can be removed the supporting posts are fixed, which doesn't allow manoeuvrability.
Shade sails are stretched between different height fixing posts to give the sail its distinctive twisting shape and to prevent water gathering on top of the sail. Commonly made in a rectangular or triangular shape, using shadecloth or PVC, shade sails can be custom-made to suit your shade requirements.
Fixing points are usually posts, which lean slightly away from the sail to give extra tension, but can also include the side of a house or a fixture on or close to the ground. Small sails can get away with timber posts but larger sails will require the strength of steel.
Once again, if a sail is removed and stored when not in use, such as in the winter months, the lifespan of your sail will be greatly increased. Regular maintenance will slow deterioration.
Awnings
Awnings are fixed or retractable shelters attached to the side of an existing home. Fixed awnings are generally made from hard materials such as Suntuf or Colorbond and have posts supporting the end that is not attached to the wall.
Retractable awnings are made from softer, though no less durable materials to allow quick retraction. Retractable awnings have nearly all the benefits of umbrellas but are more convenient as they require little effort to erect or retract. Available in motorised or manually operated versions, the choice is yours.
The next step on from a retractable awning is a retractable roofing system, such as the Tecnic from Absolutely Covered which has a PVC "roof" that is supported by and retracts into a permanent timber or metal-framed pergola structure.
Once mainly rectangular in shape, awnings now come in various shapes including seashell-shaped. And they can be custom made to suit individual requirements. Companies like Outrigger Awnings specialise in custom design work, promising a product that is fully engineered and wind-rated.
Gazebos
Gazebos are perfect for situations where you wish to have permanent shade in a particular area, for example, covering a spa or an entertainment area. Although it is easy enough to build your own gazebo, there are many companies, such as Gazebo Direct and the Tropical Lifestyle Centre, offering kits that you can build yourself or have installed.
Gazebos are typically constructed with between four and 10 sides and can sit on either a concrete slab or a timber floor. Depending on the amount of sun/shade you require, the most effective use of light all year round will be achieved by a north-facing gazebo.
The size will ultimately depend on what you wish to have inside the gazebo. It is best to ensure that everything you want to include will fit inside before construction begins and if you plan on placing a large object inside (such as a spa), make sure it will fit between the posts before the construction is complete. Large gazebos may require council approval.
Because the tropical resort-style backyard is so popular today, thatching is one of the most often-used roofing materials. Weatherproof and with amazing insulating properties, it will keep you cool during the hottest summer day.
Pergolas
A pergola is a permanent structure attached to the side or rear of the house. Whether of timber or metal construction, it can be topped with a variety of materials to provide shade and protection from the elements.
One choice is a sturdy, heat-resistant translucent panelling such as polycarbonate; another is to install an operable louver roofing system. For solid roofing, you could use the same tiles as your house.
Another choice is to cover the overhead beams of the pergola with a natural shade material such as Natureed from House of Bamboo. This will help keep the sun at bay while providing a lovely filtered light. Natureed can also be placed over or under an existing polycarbonate roof to soften the look and add a touch of natural charm to your outdoor setting.
Or if you really want the au naturel look, train climbing vines to grow over the roof beams.
Top Tips
• If you intend on dining under your shade structure it is advisable to set up your shade area close to your kitchen to avoid long trips with heavy plates.
• Before you select the size of shade you will need, place all of the items, such as tables and chairs, where they would usually sit and then measure the area. It is better to have too much shade than too little.
• If you choose an umbrella as your shade, make sure it is adequately fastened. A heavy umbrella being thrown around in the wind can be very dangerous.
• If shelter from early morning or late afternoon sun will be required, make sure you choose a shade structure that can be tilted; otherwise the sun will sneak in the side.
• If you are choosing an umbrella, make sure it is not too heavy or cumbersome to manoeuvre. If it is too much effort it won't be used as much.
• When selecting shadecloth, make sure it has adequate UV protection; different colour shadecloths have different levels of protection.