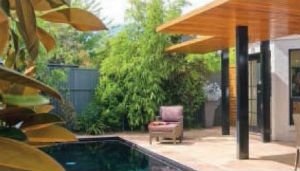 A pool and spa plus somewhere shady to relax and entertain … could you ask for more?
This award-winning garden, nestled behind a period home in Fitzroy, a suburb in Adelaide's inner north, shows what can be achieved when you draw on the expertise of a landscape designer.
To allow sufficient room to entertain, the pool was located as close as possible to the boundaries. This made it difficult to plant screening shrubs so the designer, David Baptiste of David Baptiste Design, decided to make a feature of the rear boundary wall which could be seen from inside the house.
To create texture and the look of a solid and substantial wall, cement fibre board was painted with Porter's Liquid Iron and the board joints covered with straps of steel. Reflection and depth were created with the use of panels of polished porcelain tiles, which were framed with angle iron to re-inforce the idea that metal sheets were used on the boundary.
Given the small size of the garden, a pool fence would have been restrictive. Instead, compliant door locks and handles were installed, along with pool security gates, into the design of the screens on either side of the house. To provide privacy from the neighbouring properties, the new fences and screens were built 2.1m in height.
Large sandstone tiles were used as paving and the same material used for the pool coping. This makes the outdoor area appear more like one continuous space and ensures the pool looks totally integrated into the wider landscaping scheme.
Shade was created by suspending a decking platform on a substantial steel frame to create the impression of a light, floating overhead cover. This meant there were not too many support posts and structural beams showing. The gaps between the decking timbers allow light and air to slip through, but are close enough to provide filtered shade.
Set against the backdrop of the feature wall, the Dracaena marginata provide height and a sculptural-looking network of branches and sword-like leaves. The variegated flax brightens the narrow garden and casts a stunning reflection in the water of the pool. Clumping bamboo provides height and screening and a soft, tropical feel, as do the glossy leaves and perfume of the dwarf magnolia (Magnolia 'Little Gem'), Orange Jessamine (Murraya paniculata) and Portwine Magnolia (Michelia figo).
Finding a way to conceal things is part of the process when designing for a restricted space. In this instance, the pool equipment is stored behind a screen, with the clothes line off the laundry room. The slatted screens David used are backed with black-painted marine ply so they "disappear" from view yet still form a sound and visual barrier from the entertainment area.
Project details
Landscape design by David Baptiste Garden Design Phone/Fax (08) 8267 6633 Mobile 0418 845 054 Email d.baptiste@optusnet.com.au Website www.davidbaptiste.com.au Photography by Sarah long