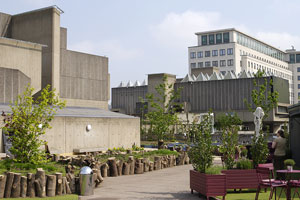 This rooftop oasis is the epitome of modern elegant design

Sitting astride the roof of a converted three-storey-high factory in a Melbourne industrial estate, this sophisticated garden employs as many natural materials as possible to soften the hard "concrete" feel of the broader environment.
"Through the use of these materials and the symmetry of the design, the space has elements of a traditional formal garden with a contemporary aspect. The latter is provided by raised decking and parallel water features," explains Vincent Tassone of Exterior Living Landscapes.
The most spectacular element of the design is the series of three custom-designed water features. Each has wrought-iron framework mounted on a mirror at one end and an urn at the other.
"The bronze lady in the centre and the surrounding garden soften the overall effect while the raised merbau decking works to break up the floor layout and draw attention to the chiminea and deck chairs," says Vincent.
"Gardenias and English box border the statue. When in flower, the border plants add character to the space while standard ficus works well as a backdrop to break up the fence line and add colour contrast to the stonework. Then there is the liriope in between the ponds and under the trees, which adds vigour to the planting scheme with its strappy leaf form and purple flowers."
To block the neighbouring factories, without obscuring the view of the city skyline, curved stone-clad perimeter walls cosset the rooftop space. Porcelain tiles complete the look.