Contemporary and inspired by the Orient, this functional rooftop garden was a collaborative effort between the homeowners, who developed the design, and Ferlacon Pty Ltd, which built the garden in association with PJ Designer Homes Pty Ltd.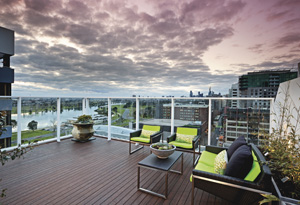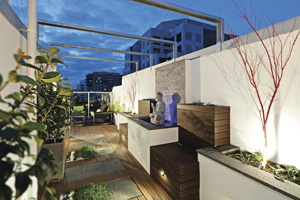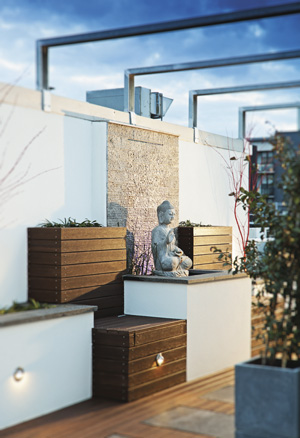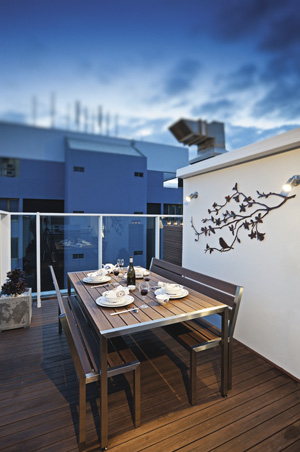 The owners' brief to Ferlacon was to take a small decking area and maximise both the space and the views (of the Melbourne skyline, Albert Park Lake and the bay), in the process transforming it into a simple and stylish urban rooftop garden. Using sustainable materials was a must, as was safety while creating a comfortable, uncluttered, low-maintenance space for year-round relaxing and entertaining.
Composite decking (made of 90 per cent recycled materials) was chosen for the new flooring. The decking looks like real timber but requires no staining or painting, nor will it warp or splinter.
For seating, there is a table setting, garden furniture and built-in benches (constructed by PJ Designer Homes) next to the water feature. The cracked marble water wall and pond, which is home to several gold fish and a water plant, is the focal point of the design, the gentle trickle of water an antidote to the noise of the bustling city and traffic below.
Being able to cook was essential so a "big statement" barbecue was selected that will allow the owners to spit roast and cook a variety of delicious dishes.
In keeping with the low-maintenance ethos, only plants with minimal water requirements and the ability to withstand harsh winds were selected. The plant palette includes oriental Buddha bamboo, native sedge, Japanese maples, mondo grass, jasmine and succulents, and there is a cleverly concealed drip water system all in collaboration with the landscaper.
To add height and a contemporary accent, there is a striking steel arbour which in time will be covered in climbing plants.
Building a rooftop garden brings with it a slew of challenges. For Ferlacon, getting materials to the 10th floor was the first hurdle. For the larger materials, a huge crane was used; all other materials and equipment had to be painstakingly carried up the stairs. The placement of the Buddha was another challenge. It weighs approximately 75kg so special support brackets had to be placed in the pond itself.
Weight is always a concern with rooftop gardens, which is why Ferlacon worked in close co-operation with a structural engineer. Of equal importance is creating a completely leak-free environment — and a safe environment. To achieve the latter, Ferlacon wrapped the garden in a 1.5m-high shatterproof, laminated glass balustrade. To ensure uninterrupted views, there is a top handrail but no bottom rail.
The end result is a desirable garden in which to while away the approaching summers.
Photography by Patrick Redmond.