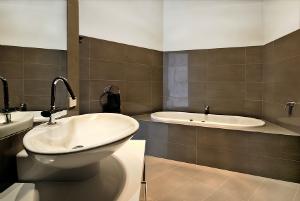 The height of elegance, this luxurious bathroom is the deserving winner of the HIA NATIONAL 2006 Bathroom of the Year Award

When the owners of this home asked Jo-Anne Balcuin to completely refurbish their tired and damp bathroom, they had very specific needs. They asked that the overall ambience of the space be that of a luxurious hotel or day spa; that it be finished with natural stone and timber; and that the space be wheelchair-friendly, without the encumbrance of shower screens and tight, restrictive angles.
Rather than limiting the design, these requirements have liberated it. The need for space and accessibility has allowed All City Bathrooms to create a room that is luxuriously spacious and generous. The muted palette is sophisticated and adds to the sense of freedom that permeates the room.
As is often the case, necessity has been the mother of invention. The need for accessibility was the driving force behind the striking shower wall, the adjustable shower rail over the sunken bath and the adjustable armed multi-focal mirror.
In this bathroom it is the finer details, as well as the overall design, that make it so spectacular. The shower wall is finished in polished marble mosaic tiles with the rest of the room tiled in large porcelain tiles. Almond Mocca CaesarStone has been used for the vanity top, which is higher than usual to avoid bending. The vanity doors are finished in a combination of glass and Laminex Amari oak. The fittings are of the highest quality and the accessories, in stainless steel and glass, complete the picture.
The understated elegance of this room further belies the practicality and functionality behind its design. This room is a great example of why All City Bathrooms & Kitchens has such a strong reputation. It has been expertly designed and built, with the utmost attention to detail. A deserving winner of the HIA National 2006 Bathroom of the Year Award.
Project particulars
THE BATHROOM WAS DESIGNED BY: Jo-Anne Balcuin
THE BATHROOM WAS BUILT BY ALL CITY BATHROOMS & KITCHENS: 516 Waverley Road, Malvern East Vic 3145
PHONE: (03) 9571 7000
FAX: (03) 9571 7044
WEBSITE: www.allcity.com.au
BATHROOM: Bath: Pandora bath. Shower: Custom-designed screenless, freestanding shower wall. Shower head: Zucchetti Idris shower set and Zucchetti Opere spin shower mixer. Basin: Two Porcher Arcadia above-counter basins. Toilet: Vitra Matrix. Vanity: Doors: Laminex Amari oak. Top: Almond Mocca CaesarStone. Taps: Zucchetti Opere spin mixers. Accessories: Atlantic Doris towel ladder, Look Glimpse toilet roll holder, soap dish and robe hooks
WALLS AND FLOOR: 500mm x 500mm Mont Pulciano porcelain tiles. Feature tiling: 50mm x 50mm Botticino polished marble mosaic tiles as floor borders and feature shower wall
MIRROR: 6mm polished-edge mirror
LIGHTS: low-voltage downlights
COST: approximately, for design, manufacture, installation, appliances, plumbing and electrical, $40,000.