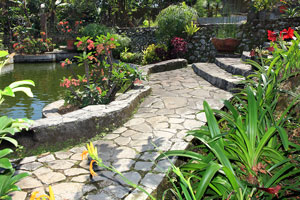 Bring Bali to your place by creating your own tropical backyard retreat

Bali House & Garden would like you to walk out your back door and have a look around. Can you imagine turning that drab space into your own tropical paradise?
No matter how big or small your yard, you can make it into a resort-style haven: all it takes is a little creativity and just a bit of exercise. First you'll need to get digging to prepare some garden beds. Next you'll need to trot along to your local nursery for some beautiful tropical plants. And of course, a few laps around the Bali House & Garden showroom in the outer Sydney suburb of Ingleburn are essential.
No tropical retreat is complete without a water feature, statue or bowl set on top of a beautifully carved plinth, and Bali House & Garden has a complete range. Want to add garden lighting? Need tiles or pavers? Dreaming of a teak daybed? They have all of that, too.
Now if you want to be 10 to 12 degrees cooler this summer, you need one of Bali House & Garden's coconut wood gazebos topped with Alang Alang thatching. They are manufactured in Bali and its takes approximately eight weeks from the time of order to their delivery to the showroom. These gazebos are produced as a DIY kit, although installation can be arranged. Just ask Bali House & Garden for a quote.
Now imagine you have finished your backyard haven. It's Friday night and you're under your gazebo listening to the gentle trickle of a water feature, enjoying the aroma of steaks cooking on the barbecue and savouring a glass of champagne. Someone mentions there's a heatwave, but you can't feel it.
If this all sounds appealing, then let Bali House & Garden bring Bali to your place. Bali House & Garden is open seven days a week and is easy to find — it's just a one-minute drive off the M5 Motorway after taking the Ingleburn exit. They also have Certegy Ezi-Pay. This 'no interest ever' direct-debit payment system means all you need to do is put down a 25 per cent deposit and then you can stagger your payments over a six-, 12-, 18- or 24-month period. So what are you waiting for?
BALI HOUSE & GARDEN
Corner Williamson and Stennet Roads
Ingleburn NSW 2565
(Located in the VP service station units)
Tel: (02) 9618 1146
Email: sales@balihousegarden.com.au
Website: www.balihousegarden.com.au