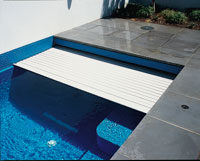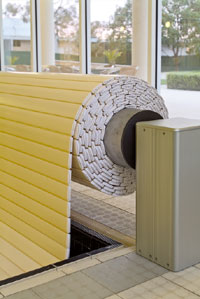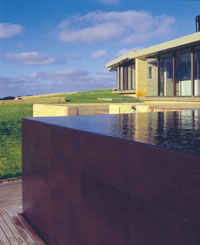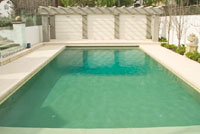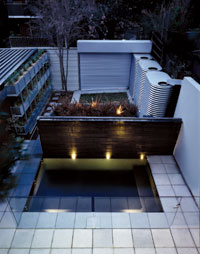 Get savvy about water conservation
We don't need to be told we live in a dry land. These past couple of years have reinforced that fact not only to rural Australians — who are constantly aware of it — but also to those of us in the cities and coastal regions.And, of course, governments and water authorities are playing their part in ensuring we don't forget by introducing restrictions — both permanent and temporary. Different regions have different water restriction regimes, so you will need to check with your own water authority to see what restrictions and obligations apply to you.
Some water authorities (such as Sydney Water) are instigating measures to ensure households with swimming pools save water in other ways as well. The big water users in a household are bathrooms, laundries and gardens (swimming pools use less water than an equivalent area of lawn). The Sydney Water scheme addresses this by attacking those places of major water usage, using the strategy of retrofitting households with water-saving devices. If you live in Sydney, the Blue Mountains or the Illawarra, you'll need a permit from Sydney Water before filling a new or renovated swimming pool that holds more than 10,000 litres of water (most pools hold between 22,000 and 60,000 litres).
To get the permit, you'll need to install water-efficient devices. Some of this can be relatively simple and inexpensive, such as changing your old showerhead for a water-efficient one, which will also save you money on your water bill. Other things you'll have to do include installing water-efficient aerators, and having a cistern-weight in any single flush toilets. You can also take part in Sydney Water's Retrofit Program. The program offers a comprehensive water-saving service in your home for just $22. Sydney Water's service includes the plumber's visit, the installation of all the required devices, a one-year manufacturer's guarantee on all equipment installed and a three-month warranty against defective workmanship. Permits are not required by customers topping up existing swimming pools to replace water lost through normal use, such as evaporation. Contact Sydney Water on 13 20 92 for more information or visit www.sydneywater.com.au Swimming pools store water rather than using it, but the secret is to keep the water in the pool.
There are also a number of ways to limit the amount of water a pool uses, such as reducing splashing and evaporation, keeping the equipment properly maintained, and only backwashing when necessary. Wind protection is also important especially if you have a spillover wet-edge design or flowing water feature — it is even possible to install sensors to turn off these features once the wind picks up.
The Swimming Pool and Spa Association of Victoria has compiled a list of 16 things that can help minimise water use:
Water Conservation Tips

1. Pools and spas should only need topping up occasionally and, in a drought, try to keep this to a minimum.
2. Keep the water level half way up the skimmer-box. Over-filling or under-filling reduces the efficiency of the skimmer box and that can lead to contamination of the water.
3. Always maintain the correct chemical balance. Pool and spa water is only wasted when it becomes contaminated and has to be drained away and replaced.
4. If you're uncertain about chemical balance or sanitiser levels, take a water sample to your nearest pool shop or call in a pool service technician.
5. It's crucial to keep the filter running regularly, up to eight hours a day in summer, and even for a few hours a day in winter.
6. Regular manual cleaning of the pool, skimmer box and other collection points will reduce the load on the filter. That, in turn, will reduce the need to backwash.
7. Keep all animals out of the pool.
8. If you have a sand or DE filter, consult your owner's manual and keep backwashing to the minimum level recommended. Stop as soon as the water looks clean in the sight glass.
9. If you have a cartridge filter, clean it with a chemical cartridge cleaner instead of using the hose.
10. If you think your pool may have a slow leak, contact your pool shop. They'll advise you on a simple way to check for leaks using a bucket and a marker pen.
11. Have all your pool equipment and plumbing checked for leaks. In just one year, a steady dribble will waste the entire volume of water in an average pool.
12. Ensure that each piece of pool equipment is working correctly. Inefficient equipment can waste water.
13. Discourage rough play. Bombing and splashing water onto the pool deck increases evaporation and wastes water.
14. Outdoor pools and spas collect rainwater. This can overfill a pool so bucket or siphon the excess to areas not touched by the rain, like plants under eaves or larger trees.
15. When it's not in use always put a pool cover on the pool to stop evaporation. Thin, inexpensive, "evaporation" covers are now available as are bubble, thermal or slat covers.
16. Have a qualified plumber conduct a water audit of your home. Just one flow control valve on the main shower will save more water than your pool uses in a year — and still give you a great shower.
Water Saving Case Study

This semi-detached residence at Clovelly in Sydney received a Gold Medal in the 2004 Green Building Awards for its water-saving solutions.The design far exceeds what is required by a pool owner, but it shows what is possible if thought and energy are put into the idea of saving water. The property has now achieved a 75 per cent reduction in mains water usage.The Clovelly house has three compact rainwater tanks in the backyard, which can store 9,000 litres of rainwater collected from the roof. The tanks are frequently filled by regular rainfall.
The tank storage provides the cold water for the bath, showers and hand basins as well as for the swimming pool. They are equipped with a Davey RainBank controller, which automatically switches the water source from the domestic mains to the rainwater stored in the tanks whenever a demand is created. The RainBank automatically uses the rainwater first and then mains water as a back up.Another water conservation initiative is that the grey water (laundry, shower and kitchen water) generated by the house is biologically treated in a tiered vertical planter established alongside one of the boundary fences. The treated grey water is then used for the washing machine and the toilet flushing needs of the house.
The house is a well established property, which the owners have lived in for almost 20 years, and includes other environmental features such as enhanced thermal performance, the extensive use of natural light with low wattage light fittings, solar water and solar pool heating, and provision for solar power generation. The project was designed by Architect Simon Anderson from Kennedy Associates Architects.
A Remco Swim Roll pool cover being retracted. To have this stylish and unobtrusive look, the cover has to be installed at the time the pool is being built, so consider your pool cover at the outset.
As this pool was already built, Sunbather installed a Retrofit unit, which involves an automated roller sitting at the end of the pool. It still works well but is more visible than the inbuilt variety.
This Aloha pool was built in rural Victoria, and the owners are very aware of water issues — they have to collect all their own water in a rain tank. To ensure the pool is as water wise as possible, Aloha built a large balance tank under the pool deck. This catches the water that spills over the edge of the four-sided wet-edge pool, and also the rainwater. To ensure the maximum water catchment, the equipment sits under the pool in a room constructed with a graded concrete roof, so the water flows along that roof and into the balance tank. Backwash water and any other water that leaves the pool ends up in this balance tank, to be re-used.
Covering a swimming pool when not in use is the most effective way to reduce evaporation. This pool, renovated by Neptune pools, features a Sunbather cover, which retracts into a pit beneath the cabana. From this picture you can see how unobtrusive it is when retracted.
The backyard view of the Clovelly house shows the swimming pool in front of the 9,000-litre rainwater storage tanks, and the tiered filter system, which treats the grey water for reuse for toilet flushing and the washing machine.