Spring is the perfect time to declutter and spring clean to give your rooms fresh appeal.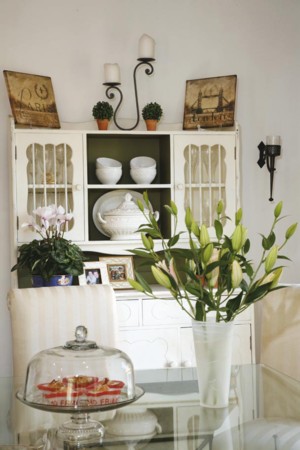 For as long as I can remember, my mum would work herself into a frenzy in spring, cleaning our home from top to bottom. Not that it ever needed it for she was a very fastidious homemaker. To this day, come the first of September, the guilts descend upon me as I feel the need to clean and organise my home in a spring cleaning flurry. Sadly, of late, time constraints mean that regardless of my good intentions, my spring cleaning has been limited to an extra wipe over of the bathroom mirrors, a clean out of my underwear drawer and a wash of at least one window. So in an effort to motivate myself as much as you, to give our homes a good old-fashioned spring cleaning, here are my tips and hints and a checklist aimed specifically at country decorators and collectors.
Gather together a cleaning kit of the following supplies in a basket or spare bucket.
All-purpose cleaner

Glass cleaner

Cleaning cloths, paper towels or wipes

Dustpan & broom

Vacuum

Specialist stain removers & cleaners, eg leather cleaner

Bucket

Mop

Disinfectant

Rubber gloves

Scrubbing brush

Duster or broom with extension handle for cobwebs

Room deodoriser or essential oil

Good-quality furniture wax

Old towel to line the sink

Silver cleaner and silver cleaning cloth

Container to move these supplies from room to room (Ed note: our Cleaning Supplies kit is from SteadySticks — find it at www.steadysticks.com)
Where to start? If you haven't done a spring clean for a while, chances are your collectables are in need of some attention, so let's start there.
Ceramics and glassware
Gather together all your ceramics, glassware and any other washable collections you have. Line the kitchen sink with a towel to help prevent breakages and fill the sink with warm (not hot) water and a little dishwashing liquid; it's time to give your collectables a wash. When you have washed them be sure to dry them thoroughly and to wipe over the shelves they were on before returning them to their homes.
Putting the shine back into your silverware
Now what about your silverware? I'm sure it too could do with a spruce-up. If the item is washable, give it a quick wash to remove dust as dust left on the surface can scratch the item as you polish it. Make sure the item is completely dry inside and out before polishing with your favourite brand of silver polish and a lint-free soft cloth. If you are storing silver cutlery you might like to include a piece of chalk in the drawer or container.
Linens and lace
What about your collectable linens? Now's the time to give them a wash and iron but if they are going to be stored for long periods of time between use, leave the starch alone as it can encourage moths and silverfish. Store doilies and tray cloths flat and roll heirloom or extremely valuable table cloths around archival acid-free tissue paper.
Books
Books would benefit from a thorough dusting. Remove them from the shelves and give the shelf itself a clean. Then rearrange your books, ensuring they are entirely upright (90 degrees); you may need to use a book end to keep them this way. This is optimal for the longevity of the book's spine. The only exception is very large books, which should be stored flat and completely supported (not left overhanging on a shelf).
Vintage bags and shoes
All vintage fashion collectables will benefit from a spring clean and a good airing is the place to start. Get them out of doors on a nice spring day and leave them open to the air, but not in harsh sunlight. Then wipe them over with a clean cloth and some leather polish. Just don't store good vintage shoes or bags in plastic — it only encourages mould and mildew, the enemy of leather.
Antique furniture
It's also the perfect time to do some maintenance on your collectable furniture. Attend to any stains, marks or scratches with an appropriate treatment and give the furniture a thorough dust before applying some beeswax or good-quality furniture polish. Do avoid spray-on polishes; they are full of silicone and do your valuable furniture no favours. Pay special attention to chair legs and rungs as these tend to be forgotten in day-to-day housecleaning.
General cleaning of your country home
Because we tend to have lots of timber in our homes and items with intricate detailing there are a couple of general tips that can help with our spring cleaning.
First and foremost, be fussy about your cleaning cloths. Use a good-quality, lint-free soft cloth. Never use anything that has threads hanging off it or a very course open weave as it may catch on intricate detail such as marquetry and loosen or remove detailed carving etc.
Next, pay attention to these details on furniture, silverware, china etc. Raised detailing or carved detailing are places where dirt, grime and even cleaning polish residue can accumulate. It might be worth adding a set of small, soft paint brushes, a soft toothbrush and some cotton buds to your cleaning kit for getting into awkward detailing.
If you have valuable country furniture, be aware of the damage that can be done by your vacuum cleaner. Even a light impact from it could leave scuff marks or dints on an antique bed or table so you might like to think about adding some foam rubber to the hard areas of your vacuum to act as a buffer.
Although we preach it often, now is the time to think about where you store your collections and any temperature variances. Large temperature fluctuations are bad for almost every genre of collectable so move items that you think may be in vulnerable positions.
Regrouping your collections
Now that your collectables and furniture are looking spic and span, it might be time to rethink the way you are displaying them. We all benefit from a new look every now and then and so do our collections. Breathe life into your collections by removing an item or two, varying their position or height or the way you have them grouped together. Concentrate on making pleasing arrangements while giving each individual piece a place to shine.
Don't think you have to achieve all of this in a day, a weekend or even a month. But do make the most of the nice spring weather to give your collections a spruce up. You never know — seeing them at their best might reignite your passion for your collection and at the very least you will know you have done the necessary maintenance to prolong their life for future collectors.