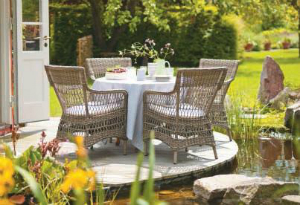 With the sun shining, plants flowering and birds chirping, spring is the perfect time to catch the gardening bug …
By Jacki Brown

Beat hay fever: The smell of freshly cut grass might be a defining element of the warm months, but it also brings with it the promise of hay fever in two out of five Australians. It is the wind-borne pollen of plants that causes allergies. Common culprits are deciduous trees, lawn grasses and weeds. Low-allergenic options include Buffalo grass or native grass species, and native trees, including wattle, which despite the rumours, is very rarely the cause of hay fever. Wear a dust mask when turning the compost heap, as mould on the compost can also trigger allergies.
Plant potatoes: You can plant potatoes in early spring, just before the last frost is expected. Potatoes are one of the easiest vegies to grow at home and will be ready to harvest in two to three months.
Enrich your soil: Take the time to understand soil and enrich your gardening knowledge as well as your garden's nutrition. Adding compost to a garden bed is one way to enrich your soil.
Planting preparation: When planting from pots and containers, dig planting holes twice as wide as the pot, but only as deep as the potting mix in the pot. Digging deeper can cause plants to end up deeper in the ground than intended as the soil settles underneath, leaving the plant waterlogged and ripe for base rot. If you've cultivated a whole garden bed in preparation for planting, allow it to settle for a few days at least before planting.
Cool-climate edibles: In cooler climates, a glasshouse is handy for growing frost-tender vegetable crops which have a longer growing season, such as tomatoes, capsicum, eggplant and beans.
Tool maintenance: Clean up old gardening tools or buy new ones in preparation for all the garden tasks throughout spring and summer.
Get water-wise: Water-holding crystals and wetting agents mixed into the soil around plants now will help plants thrive in the summer heat and dry much more successfully.
Enjoy the blooms: Cherry blossoms, tulips and daffodils are spring-flowering favourites. Also keep an eye out for hyacinths, jonquils, gladioli, anemones and freesias.
Spring garden festivals: All over the country, in major cities, small towns and regional centres, spring garden festivals will be happening. They have a range of gardening and non-gardening activities and exhibits, such as open gardens, workshops and lectures, art and craft, entertainment, markets and plant sales. Festivals in Oberon, Bathurst and Leura are some highlights in New South Wales. Bright and the Dandenongs in Victoria also have spring garden festivals. Check your local events guide or tourism website for more.
Garden competitions: Many local councils host garden competitions in which residents and local businesses can enter their gardens in various categories. There are often photography competitions as well for those who prefer to capture gardens rather than to create them.
Outdoor entertaining: Planning summer holidays could be made very easy if you're fortunate enough to have a resort-style outdoor living area at home. A less costly option than a complete landscape overhaul or a new house could be to create a treehouse or cubbyhouse with the kids, pave an outdoor dining area, get an inflatable wading pool, or simply dust off the barbecue.
Visit a garden centre: There's plenty of inspiration at nurseries and garden centres for the first-time gardener or the seasoned greenthumb.
Sit outside: One task which is essential in spring is to find a warm spot to sit outdoors and enjoy the weather and the garden. Put a garden bench in part of the garden that enjoys the sun or place a table and chairs on a deck.