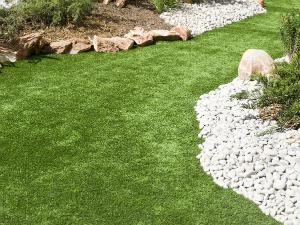 A modern Moorish makeover transforms an uninspiring 1970s front garden

Story: Karen Booth
Photos: Ron Tan
As the saying goes, necessity is the mother of invention and nothing less than a complete reinvention was required to take this dated front garden from boring and banal to bold and beautiful.
Gone is the impractical old driveway and ugly garden beds. In their place is a gorgeous new driveway that curves in just the right places, parking for the family's boat and caravan, a small grassed play area for the kids and a comfy place to sit and commune with nature. The garden also delivers maximum street appeal thanks to planter boxes filled with water-wise flax and feature plantings of frangipani and agaves.
"On arriving for the initial consult for this particular design, all I could say was 'Wow, what a challenge!'" recalls designer Denise Staff of Outside In. "Coming up with a design for a garden renovation is always more challenging than designing for a new build and this project was no exception.
 "The existing 1970s-style coffee rock garden, set on an extremely sloping block, had left the owners feeling totally uninspired and bereft of ideas about how to change the garden to make it better meet their needs."
As they were limited for space at the rear of the property, their requirements for the front garden were quite extensive — and this was in addition to the need to be able to comfortably drive down the driveway, have ample room to reverse and provide more visitor parking.
 Also on the wishlist was some lawn so their four children had a place to play, somewhere secure to park their boat, caravan and recently purchased older-style VW convertible, improved access from the front garden down the side of the property and increased privacy.
"The owners didn't really have a theme or style for the garden in mind, so I spent quite a bit of time getting to know their personalities, their likes and dislikes, and their lifestyle needs," says Denise.
"From this, I was able to establish that materials such as wrought-iron, limestone and timber would be most suitable. This, along with their love of the colour orange, formed the basis for my design. I also established that even though a more modern feel to the garden would be desirable, it needed to possess warmth and character, so soft curves and the limited use of straight lines were a must.
"As the design came together I began to lean towards a Moorish style, so I class this as one of my 'modern Moorish' designs."
Denise's design uses this corner block to its full potential. A quarter of the existing boundary wall was removed to create an entrance for the caravan and boat. This secondary access point has custom-designed wrought iron sliding gates hidden from the main front garden by timber slat screens.
To get the driveway just right, Denise had the owners back their car out from the carport so she could mark out the optimum shape and size. "The remaining design worked around this," she adds. "This included the planter boxes, lawn area, built-in seating, steps to the upper caravan and boat area and access to the rear of the property.
"To soften the planter boxes, masses of colourful foliage plants were used along with two Gleditsia 'Sunburst', one placed either side of the built-in seat for dappled summer shade and amazing autumn colour. I also sourced three bell-shaped fibreglass urns, which I sanded back and painted matt-black to offset the wrought iron works and create additional focal points."
Describing it as her most challenging renovation to date, Denise is very pleased with the end result, as are the owners and their children who never seem to be out of the revamped front garden.