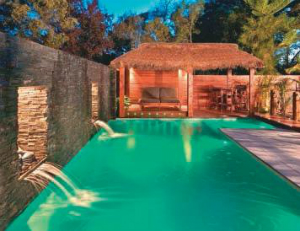 Australian-made kit-form gazebos offer ease of transportation and installation
When the time comes to choose an outdoor shade solution, you need expert advice to guide you through your choices. If like many today you want a gazebo, then Outdoorable Living is a market leader.
Outdoorable Living's gazebo range includes Western Red Cedar Gazebos, Spa Gazebos, Thatch Gazebos, Bar Gazebos and Garden Gazebos. They are all made in kit form and come with step-by-step setup instructions presented in easy-to-follow diagram form. If you're not the DIY type, professional installation can be arranged — either way, the results are exceptional.
An Australian-owned family business that prides itself on its high level of workmanship, Outdoorable Living uses only quality materials and proven construction methods. Its Thatch Gazebo, for example, has a unique interlocking roof frame that allows you to thatch the gazebo on the ground — no getting up and down a ladder all day. This is called their Ultimate DIY Thatch gazebo. You also have the option of using pre-thatched frames. This is called the Superior Ready To Go Thatch Gazebo.
All the timber used in the construction of the company's gazebos is plantation-grown and an eco (non-arsenic based) treatment is used on the wood. In addition, an environmentally safe water-based stain is used; no harsh chemicals are employed.
Customer service is the highest priority. To begin with, you deal with the same person the whole way through, from the time you make your purchase right through to after-sales care. Also, Outdoorable Living uses a production method called Lean Production. This is a method used by major companies that ensures products are made on time every time.
A large part of their business comes from referrals, which is a sure sign of happy customers and a superior product. Outdoorable Living has put a lot of time into research and development to make sure customers get the products they need at a price they can afford. Today, the average Australian family spends a lot of time in the backyard so they want a product that looks good, will stand the test of time and will meet the family's outdoor living needs.
Of course, it's not just Australian families that think Outdoorable Living's gazebos are winners. An Outdoorable Living Thatch Gazebo featured in an award-winning exhibition at the 2010 Melbourne International Flower & Garden Show.
Outdoorable Living has dealers Australia wide. It also offers a range of complementary products and accessories, including plantation shutters, alang alang thatch, decks, daybeds, bar tops, stool and privacy panels so you can create a complete, co-ordinated look.