In conversation with two Sydney-based architect firms, Utz-Sanby and Allen, Jack+Cottier, about their work and their passion for sustainable practices.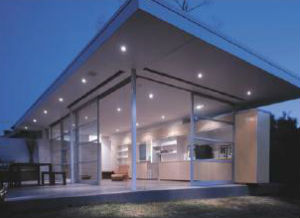 Established in 1994, Utz-Sanby is a medium-sized Sydney-based architectural practice whose principal partners are Duncan Sanby from the UK and Kristin Utz from Sydney. Sanby's background includes working for prestigious firms in both London and Hong Kong, such as Sir Norman Foster and Partners, and Bennetts Associates, where he met Kristin. Her education (First-Class Honours, Sydney University) is Australian though she has also gained much experience overseas in the UK and Hong Kong. Since establishing their practice in Sydney over a decade ago, Utz- Sanby has concentrated their talents on residential projects, completing a large number of original houses for clients on rural, suburban and urban sites. It has also successfully undertaken several heritage-listed projects involving substantial alterations, as well as additions to houses, and their work has won respect and awards in this area. Today, Utz-Sanby is working on projects both in and outside of Sydney, ranging from alterations and additions, entirely sustainable and self-sufficient housing and new one-off residences.
The business is passionate about good design; their houses are unashamedly contemporary, using a wide range of materials and innovative structural solutions depending on the location, brief and budget. Houses are designed to be environmentally responsive and sustainable, while as a firm, Utz- Sanby enjoys a reputation for being easy to work with and sensitive to client needs. 
In terms of competitive differentiation, Sanby states; "We are not concentrating on producing work that sets us apart from our contemporaries, but we are intent on producing well-designed buildings and delivering a professional service. Our approach to each project is not dogmatic; we like to work with our clients closely and believe that ultimately we are designing a 'home' for them to enjoy, long after we have left. Where we do differ from other architects is in our standard of documentation that we provide to the client and builder. This enables the builder to understand exactly how the building fits together, to provide an accurate price to build and to avoid costly variations during the construction period.
"We have a very rational approach to architecture, and are firm believers in the clear expression of form, structure and materials. We endeavour to design buildings that respond to the climate and locality, and are energy efficient and environmentally sustainable. We believe this is an intrinsic part of providing architectural services. We are particularly interested in the clear expression of structure and how this can bring order to the space," Sanby continues. "The language of form and its articulation through detailing that can describe the way a building goes together. A constant theme in our work is in the provision of light and ventilation to the principal spaces and that relies on using the latest building technology to achieve this. We do not restrict ourselves to a small palette of materials, preferring to incorporate a wide variety of different elements and finishes depending on the location and budget of the project and to bring those together using modern detailing to clarify the design intent."
As for sustainable practices, Sanby explains: "Kristin and I see sustainable practices as an intrinsic part of our work. We push it as far as our clients will allow. My background includes working at Bennetts in London, leaders in sustainable office design. As one of the leading architectural firms in the UK, Bennetts, where I started, tried to bring sustainability principles into every project. Today, for instance, I try to use air conditioning in our designs as little as possible. In Sydney, there would be five days a year when it's really hot, and I would suggest going for a swim! We try and design smaller, compact houses that require much less energy.
"However, it's very hard to convince some of our clients, particularly clients who have invested substantial money into property with water views, and that's understandable. The cost of the land demands a certain size house, a certain number of bedrooms and bathrooms. The Sydney property market has got itself into this place where land values are dictating the usage." According to Sanby, the firm has a lot more confidence now in its abilities and professionalism after being in practice for 12 years. "We have refined the processes within the office, such as documentation and building procurement, which allows us to concentrate more on the design. We believe that the body of work behind us is beginning to tell the story of who we are as a practice.
"There is a language of architecture that is becoming evident across all our projects, which is: the importance of the roof form, the expression of the structure and the way in which the building meets the ground. These elements of the building are further reinforced by the choice of materials, the interior detailing and finishes throughout. "Design elements and themes have evolved, bringing clarity to our work," Sanby continues. "For instance, many of our buildings have a floating roof, something that we like to express in our work; it adds character and style." Looking to the future in terms of Utz-Sanby and Australian architecture in general, Sanby states, "It is becoming more obvious that we cannot sustain the size of houses that the current housing market is demanding. We believe that architects will have to be at the forefront of a new trend towards smaller houses with a more intelligent use of space. We are excited by this prospect.
"Services such as grey-water recycling are going to become more commonplace in the city, and the focus will be on reducing the use of electricity rather than increasing it." When it comes to naming names, Sanby is generous in his admiration for his fellow architects. "There are a number of Australian architects that both Kristin and I admire, and all for differing reasons. There's Glen Murcutt, for his development of a contemporary Australian architecture that responds to climate and place. And Kerry Hill, for his simplicity of form and use of regional materials to create buildings of great beauty.
"Rob Brown, for his use and expression of a variety of materials and clarity of detailing. And Alex Popov, for his sophisticated combination of a European aesthetic and sensibility designed for an Australian climate. All these architects produce architecture that is 'timeless' and classically modern in its clarity of form and expression of structure and materials. Having lived and worked in England post-graduation, we realised within a very short period of time that the opportunities to practise architecture and see work being built in this country was much more accessible than in Europe.
"For young practices such as ours, there is an abundance of opportunity to see your work realised from design to actuality. For this reason there are many different approaches, styles and theories being practised in Australia. There is no one umbrella or label that we can apply to all architecture in Australia. However, there is optimism, a commitment to designing climatically responsive, expressive buildings, a willingness to experiment and to develop ideas that primarily respond to climate and place. A movement un-locked by the work of architects such as Glen Murcutt, Rick Le Plastrier and continued by Peter Stutchbury, Alex Popov and our contemporaries.
" Peter Stronach joined Allen, Jack+Cottier in 1970 and went on to become a Director in 1976 and later a Managing Director from 1996 to 2003. Stronach has also served as a Councillor and Vice President of the NSW Chapter of the Royal Australian Institute of Architecture (RAIA) and as Councillor of the National Trust (NSW).
Throughout his career, he has been an active participant and advocate for local and national architectural issues, always focused on improving both the built environment and the public standing of the architectural profession. Stronach has also had a long-term commitment to architecture that is responsive to its context, with an innate ability to overlay a contemporary understanding of space onto historic and heritage-listed structures. Several of Stronach's projects have reinterpreted historic forms in a modern context, complying with strict planning regulations while delivering efficient use of space, often manipulating spatial voids and split-levels to create light-filled, flexible living areas, cross-ventilated and oriented to maximise winter sun access. His award-winning houses and a longstanding, passionate pursuit of ecological sustainability in residential and commercial design are evidence of high standards and innovative use of materials.
"This approach to design is carried through to other projects, such as the Apple Computers' Head Office facility in Frenchs Forest, where the forms explore abstract geometry, with a sense of play provided by elements such as a curving glass wall highlighted by its brightly painted structural steel supports. Designing in an environmentally and socially responsible manner is also particularly evident in the multi-award-winning Kogarah Town Square mixed-use development, which provides a benchmark for the generation of solar power and water management strategies, and in the house Stronach designed for himself in the cool-climate Southern Highlands at Kangaloon.
"These projects built on work such as the affordable housing project in Mary Ann Street, Ultimo, which combined heritage conservation, contemporary architectural design and a strong focus on ESD principles. As the Director for Allen Jack and Cottier's urban design section, Stronach draws on his involvement in the runner-up design for the Sydney 2000 Olympic Village masterplan (Aurora consortium). He was the first person to promote the idea of housing many of the athletes in relocatable housing units, which became the key to the successful delivery of the Village.
Stronach was the director in charge of the masterplanning and design for the award-winning Sydney University Village. This project set new benchmarks for the design of student accommodation in Australia and won several awards for the quality of its urban design. It has been lauded for its liveability and sense of community, and has proven that there is market acceptance for high-quality student accommodation. Stronach is currently working on "a big house in Vaucluse as well as a couple of large projects including a re-zoned residential in Camperdown; with lots of environmental smarts, such as rainwater usage for the toilets."
Sustainable practice is his passion, and it's easy to hear the enthusiasm as he elaborates on some of the techniques he employs to create self-sufficient houses. Stronach cites his Kangaloon project and subsequent projects, where he has employed "Reverse Construction" methods. When pressed to explain this technique, he explains: "For instance, a typical traditional house would have a brick veneer finish on the outside of the house. If you reverse this and have the brick on the inside of the building and corrugated iron on the outside, it gives you colossal wall insulation.
This is what I did on my house in Kangaloon, and it is far more effective for cooling and warming the house, so the effect on energy usage is dramatic all year round. "Superior energy performance isn't the only advantage; the block interior wall is better positioned to withstand the rigours of daily life. But for a prospective homeowner, perhaps the most desirable feature is the flexibility of materials and aesthetics. The interior wall can be constructed from a range of materials, including brick, concrete or precast concrete panels. From an exterior perspective, the rendered polystyrene can mimic any number of styles.
This construction doesn't mean you have to buy into a new aesthetic, from beach houses to Federation-inspired mansions; the aesthetics are absolutely open to interpretation. "I know that some of the larger houses in the Southern Highlands can use up to $15,000 of energy a year heating the house. I spend around $2000 a year on mine. It's like the movie, An Inconvenient Truth states: we all need, in our own way, to do something about our collective future and our reliance on fuels. There are, surprisingly, some great luxury houses that are being well built that are doing just that — built to use less energy and conserve water. As an architect, I am trying to employ sustainable principles with every single project I work on.
By sustainable, in simple terms, it's using as little energy as possible to warm or cool the house and equally important, harvesting and conserving as much water as possible. "Houses built using the 'Reverse Construction' method can use 40 percent less energy and 20 percent less water. Australia has to keep its eye on the ball. Ten years ago we were leading the world in terms of alternative energy research, particularly solar. Now we are lagging terribly, an indication that we are not even compliant with the Kyoto Protocol — but now we are heading into political territory."
Stronach states that as a firm and as a practising architect, his concern for environmental issues is paramount. "I have been concerned — and have been responding to that concern for more than 20 years now. My work has evolved over the last few years in that whenever there is the opportunity to place sustainable practices into place, I do. I push as far as our clients will let me.
Sometimes that's not easy; there is still this misconception that the need to conserve water is over exaggerated. Even some city councils are ignorant and unwilling to face the facts. I believe the direction of Australian architecture, at least my work, has to be more sustainable. The difference is that now legislation on my side. "Some Australian architects I admire include Richard Le Pastrier, Bruce Eles, Peter Stutchbury, Glenn Murcutt and Richard Johnston, though his work is more commercial than residential. In terms of Australian architecture, do I believe that there even is such a thing as Australian architecture? Yes, I do. Some people's work in this country is uniquely Australian.
They are creating buildings that respond directly to the environment. It's reflected with decent-sized eaves, sheltering the house from the sun, elements — our harsh climate. The architecture responds both practically and aesthetically."